Fresh Mango & Beet Salad
PREP TIME30 minutes

COOK TIME10 minutes

TOTAL TIME

SERVINGS12
Source: Chef  Dave Woolley
Ingredients
Mango Dressing (Makes 2 cups, 3 ounces)
10 ounces fresh mango puree
2 ounces fresh lime juice
1 ounce white balsamic vinegar
4 ounces olive oil
Salt to taste (no black pepper)
Avocado-Chive Oil (Makes about 1/2 cup)
5 ounces avocado oil
1 ounce fresh chives, roughly chopped
Mango Beet Salad Mix
16 ounces roasted beets, small-medium dice
16 ounces Fresh Mango, small-medium dice
2 tablespoons parsley, minced
1 ounce Crispy Onions, minced
3 ounces Mango Dressing
Salt to taste
Toppings
12 ounces goat cheese crumbles
Crispy onions, for garnish
Micro greens, for garnish
Freshly ground black pepper
PREP TIME 30 minutes

COOK TIME10 minutes

TOTAL TIME

SERVINGS12
Source: Chef  Dave Woolley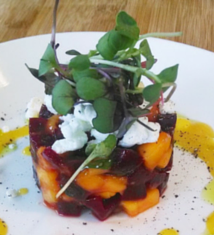 Instructions
For Mango Dressing:
Combine first four ingredients in blender. Drizzle in olive oil to emulsify. Add salt to taste. Reserve 3 ounces for Salad Mix. 
For Avocado-Chive Oil: 
 Heat avocado oil to 250 degrees F but not hotter than 300 degrees F. Place fresh chives (rough cut) in blender, and add hot oil; blend immediately. Strain with fine chinois and cool in ice bath immediately to hold color and flavor. Add salt to taste. 
To assemble salads: 
Mix all Salad Mix ingredients together and toss with 3 ounces Mango Dressing. In the center of each salad plate, lightly press about 3 ounces Mango Beet Salad Mix into a 3-inch diameter ring mold; remove ring.

Layer on top of each salad: 1 ounce goat cheese crumbles, 2 to 4 pieces of Crispy Onions and 10 pieces of micro greens. Swirl 2 tablespoons Mango Dressing around stack and dot the plate with ½ teaspoon Avocado-Chive Oil. Finish with freshly ground black pepper.