Eggnog Panna Cotta with Mango Coulis
PREP TIME

COOK TIME

TOTAL TIME

SERVINGS5
Recipe submitted by Billy Green, Wit and Vinegar.
Eggnog Panna Cotta with Mango Coulis
Ingredients
Panna Cotta
1 cup whole milk
1 tbsp gelatin
pinch of salt
2 cups full fat eggnog
1/2 tsp vanilla bean paste
Mango Coulis
1 ripe mangos
1/3 cup water
sugar
whipped cream for serving
PREP TIME

COOK TIME

TOTAL TIME

SERVINGS5
Recipe submitted by Billy Green, Wit and Vinegar.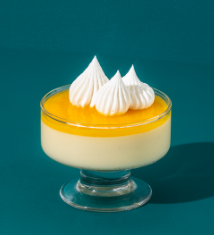 Instructions
To make the panna cotta, add the whole milk to a small saucepan. Sprinkle the gelatin over the top and let it bloom and soften for about 5 minutes.

While this is happening, measure out the eggnog into a large measuring cup (a 4 cup measuring cup is perfect if you have)

Turn the heat to medium, whisk the gelatin into the milk and add the pinch of salt. Whisk very frequently to make sure none of the gelatin burns or sticks and it dissolves evenly. Once the milk is hot, just to a scald no simmer necessary, tilt the pan gently to make sure there's no gelatin left on the bottom of the saucepan then add the mixture to the measuring cup with the eggnog.

Whisk it all together then add the vanilla bean paste and whisk just until combined.

Pour the panna cotta into the glasses you're serving them in, making sure you leave about an inch of space at the top for the coulis, then carefully transfer the panna cotta to set completely. Since we didn't heat it all up this should take about an hour to an hour and a half to fully set.

While the panna cotta sets, make the coulis.

Remove the flesh off the mangos. I cut off the cheeks of the mango from the seed, scoop out the flesh, then cut off the slim sides remaining and scoop the flesh out of there. Then use a spoon to scrape off any other fruit that I can from the pit. Add the water and blend until smooth. Taste for sugar (my mangos were sweet enough thatI didn't have to add any but it's all a preference, just add sugar a teaspoon at a time) then run the mixture through a fine mesh sieve to catch any chunks of fruit and pulp. Cover and place into the refrigerator until you're ready to serve.

When you're ready to serve, spoon 2-3 tablespoons of the coulis onto the panna cotta and top with whipped cream. If you want a really smooth coulis surface, try gently jiggling the glass a couple of times after you add it to let gravity do its work.