Grilled Mango with Balsamic Caramel and Vanilla Ice Cream
PREP TIME

COOK TIME

TOTAL TIME

SERVINGS0
Recipe submitted by Olivia Crouppen, LivHungry.
Grilled Mango with Balsamic Caramel and Vanilla Ice Cream
Ingredients
3 ea Mangos (Peeled, Sliced)
1/2 cup Maple Syrup
4 tbsp Butter
1/4 cup Balsamic Vinegar or Balsamic Glaze
1 tsp Vanilla Extract
1 tsp Cinnamon
Vanilla Ice Cream (For Garnish)
Toasted Nuts (For Garnish)
Fresh Mint (For Garnish)
PREP TIME

COOK TIME

TOTAL TIME

SERVINGS0
Recipe submitted by Olivia Crouppen, LivHungry.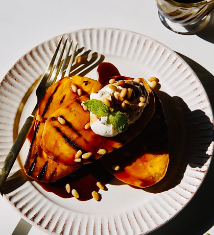 Instructions
First pre-heat your cast-iron pan or grill to medium high.

While the grill is heating up, generously drizzle the mango cheeks with 1/4 cup of the maple syrup.

Brush the grill or pan with 1 tablespoon of butter then lay the mango cheeks on top of the grill. Allow the mango cheeks to caramelize and char on the first side for 3 to 4 minutes before turning to the second side. Allow the mangos to cook for an additional two minutes then remove from the grill and set aside to cool slightly while you make the balsamic caramel.

In a large sauté pan set over medium-high heat, add the remaining 1/4 cup maple syrup, 3 tablespoons butter, balsamic vinegar, vanilla & cinnamon.

Whisk all the ingredients together then allow the caramel to come to a bubble. Once bubbling, reduce the heat to low and allow to reduce for about 3-5 minutes.

Once the caramel is glossy and thick, carefully transfer into a serving dish.

To plate the dish, stack the grilled mango cheeks on a serving platter then top with vanilla ice cream, balsamic caramel and toasted nuts and mint if desired. Enjoy!

Leftover mangos can be covered and stored in the fridge for up to 3 days.