Poached Mango with Lemongrass Crème Anglaise and Coconut Sorbet
PREP TIME

COOK TIME

TOTAL TIME

SERVINGS10
Recipe courtesy Executive Chef Christophe Joignant, Capital City Club, Brookhaven
Poached Mango with Lemongrass Crème Anglaise and Coconut Sorbet
Ingredients
Poached Mangos
1652 gram Water
300 gram Sugar
17 gram Lemon Juice
1 gram Ground Coriander
2 each Star Anise
1 each Vanilla bean, split
4 Small, Fresh Mangos (diced)
Floating Island
15 each Egg Whites
180 gram Sugar
1000 gram Milk
10 gram Vanilla Extract
Pastry Ceram
480 gram Milk
75 gram Sugar
3 each Egg Yolks
1 each Egg
25 gram Cornstarch
Pinch of Salt
10 gram Vanilla Bean Paste
43 gram Unsalted Butter, softened
Lemongrass Crème Anglaise
1000 gram Milk
100 gram Coconut Milk
100 gram Powdered Sugar
4 each Lemongrass Sticks, chopped
1 each Vanilla Bean
50 gram Coconut Cream
100 gram Pastry Cream
Coconut Sorbet
450 gram Simple Syrup
1 each Lime, zested
450 gram Coconut Puree
PREP TIME

COOK TIME

TOTAL TIME

SERVINGS10
Recipe courtesy Executive Chef Christophe Joignant, Capital City Club, Brookhaven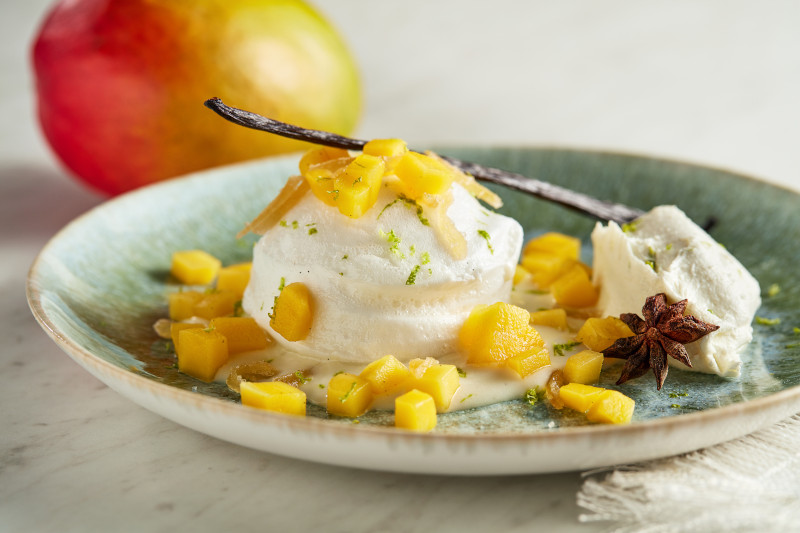 Instructions
Poached Mangos
In a saucepot, bring the water, sugar, lemon juice, coriander, star anise, and vanilla to a boil to make a syrup.

Remove from the heat and pour over diced mango in a heat proof container.
Floating Island
Beat the egg whites until soft peaks form, then add the sugar and beat again to stiff peaks, a meringue-like consistency.

Bring the milk to a boil, add the vanilla extract, and add 1 tablespoon of meringue. Poach on both sides for about 2 minutes.

Continue to poach the meringues in batches, so the pan is not overcrowded.

Remove the meringues from themilk to a lined baking sheet and set aside.
Pastry Cream
Meanwhile, place the sugar, egg and yolks, cornstarch, and saltin a bowl. Whisk until you have a thick, smooth mix. Place the bowl with the egg mix on a towel or napkin and set aside until the milk comes to a boil.

As soon as the milk starts to simmer, remove it from the heat.Slowly pour about half of the hot milk in a thin stream into the egg mix,tempering the egg mix. When the eggs have been tempered, add the egg mix back into the hot milk in the saucepan.

Heat the custard base over medium heat while whisking vigorously, until it starts to thicken.

Remove from the heat and add the vanilla paste. Whisk in the butter until it's completely mixed in.

Pour the custard into a bowl and immediately cover the surface with plastic wrap.

Let the custard cool down to room temperature and then refrigerate for a few hours, until it's completely chilled.

Use as needed after the pastry cream has been chilled. 
Lemongrass Crème Anglaise
In a saucepan, bring the milk, coconut milk, sugar, lemongrass, and vanilla to a boil.

Reduce by one third. Let cool, then whisk in the pastry cream and coconut cream. Cover and refrigerate.
Coconut Sorbet
Reduce the simple syrup over medium-low heat so it will read 28 on the Baume scale.

Combine the simple syrup, lime zest, and coconut puree. Cool over an ice bath.

Freeze in an ice cream machine and pack into a container. Keep frozen.
To Plate:
Make a ring of poached mango on a dessert plate.

Ladle some crème anglaise inside the mango ring.

Top with a scoop of sorbet and a poached meringue on the sorbet.

Garnish with vanilla beans and star anise.