Mango Shortcakes
PREP TIME

COOK TIME

TOTAL TIME

SERVINGS0
Ingredients
For the Biscuits
1/4 cup white granulated sugar
Zest of 1 lime
2 cups flour, plus more for dusting
1 tbsp baking powder
1/2 tsp salt
1 stick butter, cold and cubed up
1/2 cup + 1 tbsp buttermilk
1 tbsp turbinado sugar
For the Mangos
3 Red Mangos, peeled and cubed
Juice of 1 lime
For the Cream of Coconut Whipped Cream
1 cup heavy cream
2 tbsp sweetened cream of coconut (not coconut cream)
PREP TIME

COOK TIME

TOTAL TIME

SERVINGS0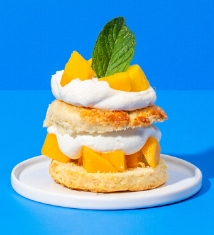 Instructions
To make the biscuits, combine the lime zest with the sugar in a large bowl and mix it together to combine. Add the flour, baking powder, and salt and whisk to combine.

Add the cold chopped butter to the flour mixture and rub it together with your fingertips until evenly combined and there are no pieces of butter are larger in size than a pea.

Add the 1/2 cup of buttermilk and use a fork to combine, do not overmix. Place the dough onto a lightly floured surface and use your hands to finish bringing the dough together. Pat the dough into a round shape that's about 1/4 inch thick. Fold the dough over on itself like a book then fold it once more so you've got 4 layers.

Cut out biscuits with a floured 3-inch biscuit cutter. Reform the scraps as needed to cut out additional biscuits, you should get about six.

Transfer the biscuits to a small parchment lined baking sheet, letting them just barely touch to help them rise.

Transfer the biscuits to the freezer for 15 minutes to help the butter firm up so you get a better rise. While they chill, preheat the oven to 400ºF.

After waiting 15 minutes, brush the tops of the biscuits with buttermilk and then sprinkle with the turbinado sugar. Bake for 20-25 minutes, until golden brown. Remove the biscuits from the oven and let them cool completely.

Once you're ready to serve, prepare the mangos by mixing them with the lime juice and whip the cream with the sweetened cream of coconut until you get soft peaks.

Assemble and serve the shortcakes by splitting open the biscuits and filling them with the mango cubes and whipped cream. If you're feeling extra, add a little bit extra to the top.