Buttermilk Panna Cotta with Mango Sauce
PREP TIME20 minutes

COOK TIME5 minutes

TOTAL TIME

SERVINGS2
Buttermilk Panna Cotta with Mango Sauce
Ingredients
Spanna Cotta
1/3 cup heavy cream
3/4 tsp Knox gelatin
3 tbsp sugar
1/2 cup buttermilk
Mango Sauce
1 ripe mango, peeled, pitted and pureed
1/2 cup dessert wine
1 tbsp sugar
1 cinnamon stick
PREP TIME 20 minutes

COOK TIME5 minutes

TOTAL TIME

SERVINGS2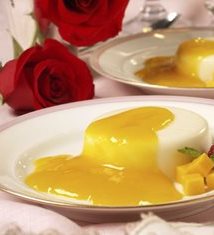 Instructions
Stir together cream and sugar; simmer until sugar has dissolved.

Whisk in gelatin until dissolved then stir in buttermilk.

Pour into two 6- to 8-ounces heart shaped molds and chill until set.

Meanwhile, simmer pureed mango, wine, sugar and cinnamon over low heat for 10 minutes. Let cool and remove cinnamon stick.

Unmold each onto a dessert plate and top with mango sauce.

Let chill for several hours.