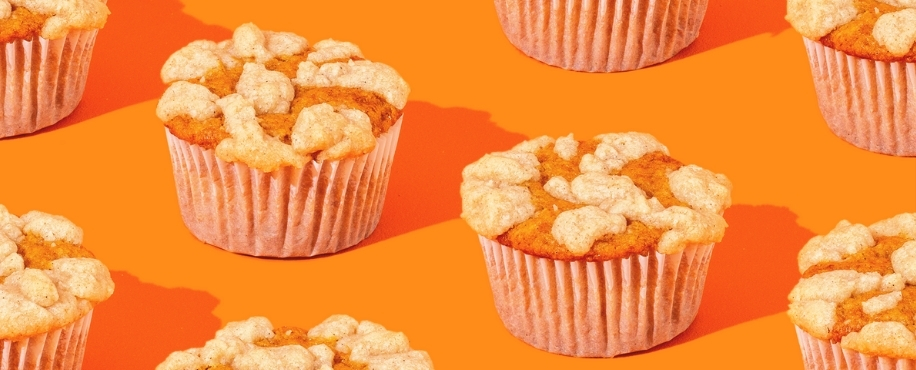 INGREDIENTS
For the Streusel:
1/4 cup butter, cold and cubed up
1/2 cup all-purpose flour
3 tablespoons white granulated sugar
1/4 teaspoon ground cinnamon
pinch of salt
For the Muffins:
1 1/2 cup all-purpose flour
1 teaspoon baking powder
1/2 teaspoon baking soda
1/2 teaspoon kosher salt
1 teaspoon ground cinnamon
1 teaspoon ground ginger
1/4 teaspoon ground cardamom
1 1/4 cups mango puree, from about 1 large ripe mango*
3/4 cup white granulated sugar
1 large egg
1/4 cup neutral oil, like canola or grape seed
Start by making the streusel. In a bowl, carefully toss together the butter, flour, sugar, cinnamon and salt then use your fingertips to smash the butter into smaller pieces until it's evenly incorporated, and the mixture starts to clump together. Break the streusel up into smaller pieces then transfer to the refrigerator for the butter to firm up while you make the muffin batter.
Preheat your oven to 350ºF and line a muffin tin with 12 baking cups
In a large bowl, whisk together the flour, baking powder, baking soda, salt, cinnamon, ginger, and cardamom. In another bowl whisk together the mango puree, sugar, egg, and oil then add the wet ingredients to the dry and mix together just until combined. Use a 1/4 cup ice cream scoop to scoop 1/4 cup of batter into each muffin tin until all 12 are filled.
Take out the streusel and break it up until you have no clumps bigger than the size of a pea, then add about a tablespoon of streusel to each muffin, spreading it out evenly over each muffin. Bake for 20-25 minutes, until a toothpick inserted comes out clean.
Let the muffins cool in the pan for 5 minutes then carefully remove the muffins and let them cool completely on a metal cooling rack before serving.
*To make the mango puree, carefully slice the cheeks off the mango and scoop out the flesh into a blender. Then, use a spoon to scrape off the mango flesh from the pit until all of it is in the blender. Blend on high for 15-20 seconds until smooth then use however your heart desires. .
Recipe submitted by Billy Green, Wit and Vinegar.