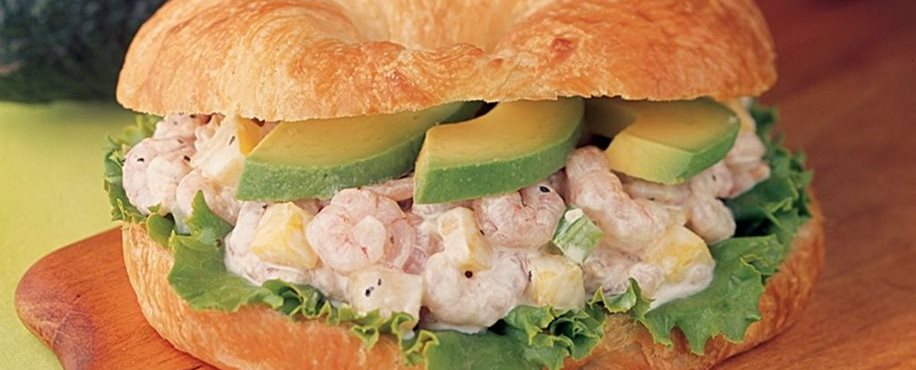 INGREDIENTS
12 croissant, sliced
12 leaves green leaf lettuce
1 pound 2 ounces Fresh California Avocado, sliced
12 pickle spears
MANGO SHRIMP SALAD BASE:
1 pound 11 ounces raw shrimp (71/90) peeled and deveined, tail off
9 tablespoons sour cream
14 tablespoons mayonnaise
5 ounces celery, diced ¼ inch, blanched
13 3/4 ounces peeled and pitted ripe Fresh Mango, diced ¼ inch
4 1/2 tablespoons fresh basil, chiffonade
1 3/4 teaspoons freshly ground black pepper
Per serving:
Place lettuce on heel of roll. Top with 3 ½ ounces Mango Shrimp Salad Base (#10 scoop) and 3 slices avocado. Place crown of roll on sandwich to close. Serve immediately with pickle spear.


To make Mango Shrimp Salad Base:
Steam shrimp 30 seconds to 1 minute, until just cooked through. Cool quickly. In a bowl, combine sour cream, mayonnaise, blanched celery, mango, basil, and pepper; mix well. Fold in cooked shrimp. Hold refrigerated and use within 3 days.

Source: Chef Chuck Hatfield, Sodexo