Deli Mango Shrimp Salad Croissant
PREP TIME

COOK TIME

TOTAL TIME

SERVINGS12
Source: Chef Chuck Hatfield, Sodexo
Deli Mango Shrimp Salad Croissant
Ingredients
12 croissants
12 Leaves Green Leaf Lettuce
1 lb 2 ounces Fresh California Avocado
12 pickle spears
Shrimp and mango salad base
1 lb 11 ounces raw shrimp (71/90)
9 tablespoon Sour cream
14 tablespoon Mayonnaise
5 oz Celery
13 ¾ oz Ripe fresh mango peeled and pitted
4 ½ tablespoon fresh basil
1 ¾ teaspoonful freshly ground black pepper
PREP TIME

COOK TIME

TOTAL TIME

SERVINGS12
Source: Chef Chuck Hatfield, Sodexo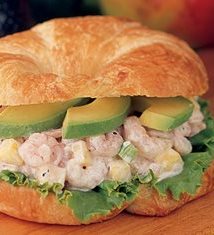 Instructions
Per portion:
Place the lettuce on the heel of the bun.

Top with 3 ½ ounces Mango Shrimp Salad Base (#10 scoop) and 3 avocado slices.

Place the crown of the roll on the sandwich to close.

Serve immediately with pickles.
To make a shrimp and mango salad base:
Steam shrimp for 30 seconds to 1 minute, until cooked through.

Cool quickly.

In a bowl, combine sour cream, mayonnaise, blanched celery, mango, basil, and pepper; mix well.

Add the cooked shrimp.

Keep it refrigerated and use it within 3 days.