Brat with Mango Kimchi and Mango Mustard
PREP TIME30 minutes

COOK TIME15 minutes

TOTAL TIME

SERVINGS10
*To serve smaller portions, cut assembled brats in half on the bias into 2 halves to serve smaller portions, with a pick through each portion. Recipe courtesy of Chef Dave Woolley
Brat with Mango Kimchi and Mango Mustard
Ingredients
10 bratwurst, grilled
10 classic soft stadium buns, steam warmed
Mango Kimchi
1 large green mango, julienned with mandolin
1 large ripe mango, small dice
1 lb Napa cabbage, quartered lengthwise, cored, and halved crosswise thin julienned
1 Tablespoon Korean red chile flakes
1 teaspoon fish sauce
2 Tablespoons fine julienne red pepper (optional)
1 teaspoon minced garlic
1 Tablespoon granulated sugar
Salt to taste
Mango Mustard
2 Tablespoons apple cider vinegar
1/4 cups Dijon mustard
1 Tablespoon honey
1/2 fully ripe fresh mango (about ¼ cup), peeled, pitted and pureed
Salt to taste
PREP TIME 30 minutes

COOK TIME15 minutes

TOTAL TIME

SERVINGS10
*To serve smaller portions, cut assembled brats in half on the bias into 2 halves to serve smaller portions, with a pick through each portion. Recipe courtesy of Chef Dave Woolley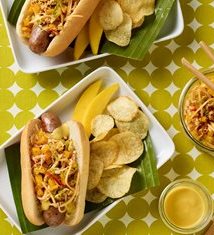 Instructions
Mango kimchi
Place all ingredients in a bowl and season with salt. Set aside to marinate at least 24 hours in an airtight container.
Mango Mustard
Blend all ingredients until very smooth.
Slather Mango Mustard on all 10 warm buns; distributive evenly. Add grilled bratwurst.

Evenly distribute Mango Kimchi between all 10 bratwurst.

Garnish each bratwurst with ½ teaspoon of cilantro.

Pick each assembled bratwurst, divided in half, then cut in half and serve.