Mango Chicken Salad
PREP TIME

COOK TIME

TOTAL TIME

SERVINGS0
Ingredients
1 pound chicken breast, diced
1/4 cup red onion, diced
1 tbsp jalapeno, diced with seeds removed
1 tbsp oil
1/4 cup mayo
1 mango, diced
2 tbsp cilantro, chopped
1 tbsp lime juice
1/4 tsp chili powder
Salt and pepper to taste
PREP TIME

COOK TIME

TOTAL TIME

SERVINGS0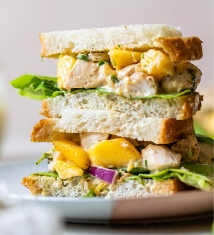 Instructions
Heat oil in a large skillet over medium heat, then add the chicken, onion and jalapeno pepper and sauté until chicken is cooked; pour into a bowl.

Add homemade mayo, mango and cilantro, then add the lime juice, chili powder, salt, and pepper. Do a taste test and see if you think it needs more lime juice and/or chili powder.

Scoop chicken salad onto bread and enjoy!