Crunchy Ramen Noodle Salad with Mango
PREP TIME20 minutes

COOK TIME

TOTAL TIME

SERVINGS6
Crunchy Ramen Noodle Salad with Mango
Ingredients
2 (3 oz) Ramen Noodle Packages Without the Seasoning
1 (8 oz) Package Coleslaw Cabbage Mix
1 Cup Shelled and Cooked Edamame
1 Cup Mango
½ Cup Green Onion
½ Cup Roasted Unsalted Peanuts
2 Fresno Chiles
¼ Cup Cilantro Leaves
¼ Cup Basil Leaves
½ Cup Canola Oil
¼ Cup Lime Juice
3 Tbsp Orange Juice
3 Tbsp Honey
1 Tsp Toasted Sesame Oil
1 ½ Tsp Fish Sauce
PREP TIME 20 minutes

COOK TIME

TOTAL TIME

SERVINGS6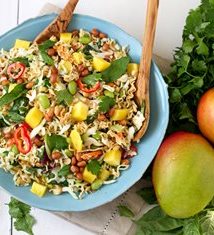 Instructions
Preheat the broiler to low heat.

Crumble ramen noodles into bite-sized pieces and place on a baking sheet in a single layer. 

Toast ramen until lightly golden under the broiler, about 3 minutes.

In a large bowl, toss to combine toasted noodles, coleslaw mix, edamame, mango, onion, peanuts, chilies, cilantro and basil.

In blender or large bowl with a whisk, combine oil, lime and orange juices, honey, sesame oil and fish sauce, and blend or whisk until emulsified. 

 Add to salad and toss to coat.

Serve immediately.