Crab and Mango Salad
PREP TIME15 minutes

COOK TIME10 minutes

TOTAL TIME

SERVINGS4
Ingredients
1 large ripe mango, peeled, pitted and sliced
3 tbsp fresh lime juice
2 tbsp Thai fish sauce
2 tbsp sugar
pinch or dash red pepper flakes
1 tbsp each: chopped fresh cilantro, basil, mint
1 cup fresh jumbo lump crabmeat, any shells removed
½ cup coconut milk
2 tbsp tablespoons flaked coconut
PREP TIME 15 minutes

COOK TIME10 minutes

TOTAL TIME

SERVINGS4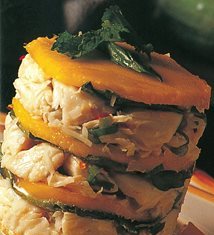 Instructions
Thinly slice the mango, slicing from the 2 wider sides of the fruit, to make 8 thin slices.

Cut 8 circles using a 3-inch round cookie cutter and finely dice remaining mango; set aside. 

Stir together lime juice, fish sauce and sugar in a small bowl; stir to dissolve sugar. Add red pepper flakes, onion and herbs.

Gently stir in the diced mango, crabmeat, coconut milk and coconut. Cover and refrigerate for 30 minutes.

To arrange salad, set a 3-inch ring mold or springform pan on a salad plate. Place a mango slice on the bottom then fill with crabmeat salad. Carefully press down on the mixture to pack into mold, letting some of the juices run onto the plate. Top with another mango slice then carefully remove mold. 

Repeat with remaining mango and salad. Makes 4 servings.