Amchoor Grilled Mahi with Green Mango Noodle Salad
PREP TIME

COOK TIME

TOTAL TIME

SERVINGS4
Recipe courtesy of Chef Jason Hernandez of Blade & Tine Culinary Consulting
Amchoor Grilled Mahi with Green Mango Noodle Salad
Ingredients
4 tsp Amchoor powder
2 tsp salt
2 tsp black pepper
16 oz Mahi raw
12 oz mango spirals
1 red pepper julienned
8 fresno chillies sliced
2 tsp cilantro chopped
6 Fl oz. Nuoc Chom Vinaigrette
4 Fl oz. Hot water
1/4 Cup White Sugar
2 Fl oz. Lime Juice Fresh
1 Fl oz. Fish Sauce
2 Tsp. Garlic Minced
1 Tsp. Chili Oil
1 Fl oz. EVOO
12 oz. Udon Noodles, 3 oz. per portion
PREP TIME

COOK TIME

TOTAL TIME

SERVINGS4
Recipe courtesy of Chef Jason Hernandez of Blade & Tine Culinary Consulting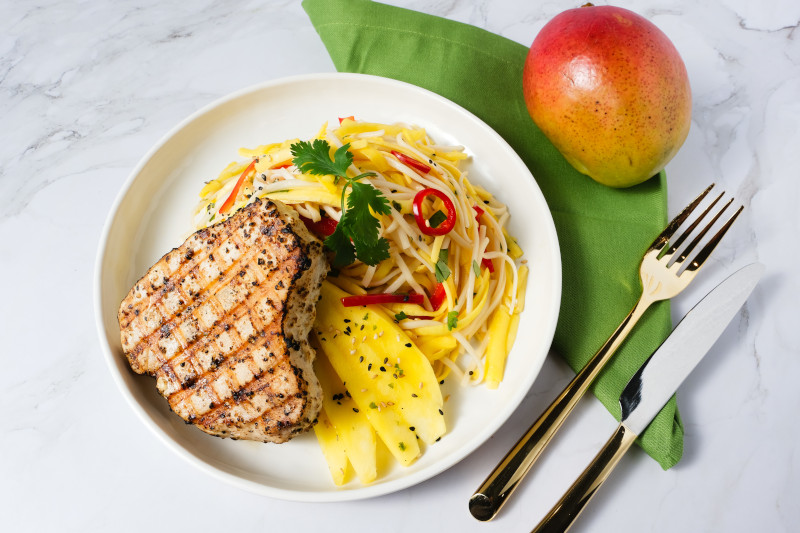 Instructions
Nuoc Chom Vinaigrette
In a small bowl, whisk together the water and the sugar until the sugar dissolves. Add in the lime juice, fish sauce, and garlic whisk all to combine. Combine the Chili oil and the EVOO and while whisking slowly add in the oils to completely combine. Blender can be used as well. Place in an airtight container and store for 3 days or use immediately.
For the Mahi
Combine the Amchoor, salt, and pepper and sprinkle over the entire piece of fish. On an oiled grill, grill to fish until completely cooked and set aside to plate.
For the Salad
Using a mixing bowl, place the mango spirals and udon noodles in the bowl. Add in the peppers, chilies, and cilantro. Add in the dressing and gently fold in the dressing with the noodles and the ingredients. When completely combined mound in the center of a bowl twisting the noodles into a nest mounded as high as possible. Gently lay the fish on the bowl leaning on the salad. Drizzle the fish with ½ Fl oz. dressing.