Deli Mango and Avocado Chicken Ciabatta
PREP TIME

COOK TIME

TOTAL TIME

SERVINGS12
Source: Chef Chuck Hatfield, Sodexo
Deli Mango and Avocado Chicken Ciabatta
Ingredients
12 Ciabatta Rolls
12 Leaves Green Leaf Lettuce
1 lb 2 oz Fresh California Avocado
¾ Cup Barbecue Sauce
¼ Cup Roughly Chopped Fresh Cilantro
12 Pickle Spears
Barbecue Chicken Breast:
3 lbs 12 oz Chicken Breast
¼ Cup Olive Oil
1 Tsp Salt
½ Tsp Red Wine Vinegar
1 Tsp Chopped Fresh Mint
1 Tbsp Thinly Sliced Scallion
⅛ Tsp Salt
⅛ Tsp Brown Sugar
1 lb 2 oz Peeled and Pitted Ripe Fresh Mango
2 oz Red Pepper
PREP TIME

COOK TIME

TOTAL TIME

SERVINGS12
Source: Chef Chuck Hatfield, Sodexo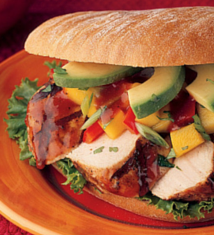 Instructions
Per Serving:
Place one lettuce leaf on heel of roll.

Top with a 3 ½ ounce portion of chicken breast, 2 tablespoons mango salsa and 1 ½ ounces sliced avocado.

Drizzle 1 tablespoon barbecue sauce.

Top with a few cilantro leaves.

Place crown of roll on sandwich to close.

Serve immediately with pickle spear or hold refrigerated for same day service.
To Make Barbecue Chicken Breast:
Coat chicken with oil and season with salt and pepper.

Place seasoned breast on a clean, hot char broiler or grill.

Grill until marked on both sides.

Brush with barbecue sauce.

Finish in 275° oven.

Hold hot for service or cool quickly and hold refrigerated and use within 48 hours.
To Make Fresh Mango Salsa:
Combine orange juice, lime juice, vinegar, mint, scallions, salt and brown sugar; mix well.

Combine mango, red pepper; toss gently with dressing to coat.

Hold refrigerated and use within 24 hours.