Grilled Bratwurst with Mango Relish
PREP TIME5 minutes

COOK TIME

TOTAL TIME

SERVINGS4
Grilled Bratwurst with Mango Relish
Ingredients
2 Mangos (about 2 pounds)
2 Tsp Coarse Grain Mustard
½ Tsp Sugar
½ Tsp Chopped Fresh Thyme
¼ Tsp Salt
¼ Tsp Pepper
1 Package Store-bought Bratwurst (uncooked)
1 Package Store-bought Hot Dog Buns
PREP TIME 5 minutes

COOK TIME

TOTAL TIME

SERVINGS4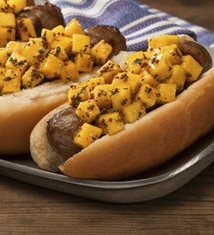 Instructions
Combine mangos, mustard, sugar and thyme in a medium bowl. 

Mix well.

Season with salt and pepper to taste, set aside.

Preheat outdoor grill or indoor grill pan over medium-high heat. 

Place four bratwurst on hot grill, cover and cook for 15 to 20 minutes; turning often until internal temperature reaches 160 degrees.

To serve, place cooked bratwurst in hot dog bun and top with mango relish.

Makes about 1 cup relish (enough for four bratwurst).