Summer Staycation: We're Sailing Off to the Caribbean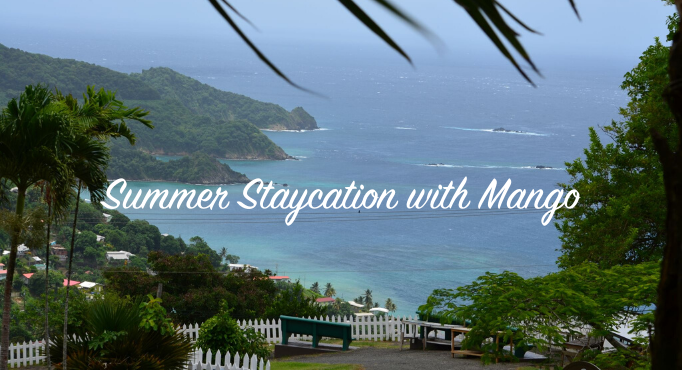 The Caribbean is a vibrant medley of islands welcoming all tropical adventurers. You'll be immersed in a burst of color, surrounded by sunny beaches, and whisked away in the sea salt wind. Although vacation plans may be postponed this year, it's important to remember paradise is a state of mind.
Mangos in the Caribbean
In the Caribbean, mangos are a comfort food that nourishes the body, soul, and spirit. It can be felt in every aspect of local life. With many mangos imported to the United States from the Caribbean, the islands play a vital role in our culture. Not only are mangos found locally throughout Jamaica, Haiti, Puerto Rico, and Trinidad, they're often sewn into the cultural fabric of these countries.
Mangos will vicariously transport you to this part of the world. So, put your feet up, pour a drink of choice, and virtually travel with us to the sunlit scenes of the island life.
Layback in Puerto Rico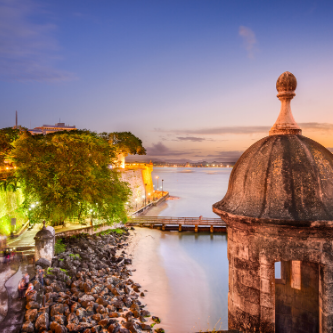 Filled with sea breeze and soft sandy beaches, Puerto Rico is a beautiful mix of Spanish and American influences, making it any paradise-seeker's dreamland. This island truly personifies Caribbean daydreams.
PR Shares Mango Love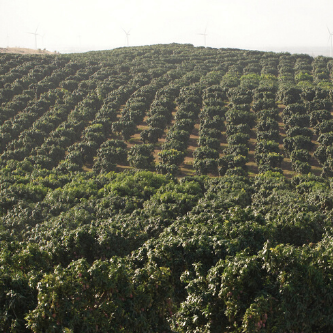 Mango Farm in the South Coast of Puerto Rico 
Drive along any street in Puerto Rico and you'll find mature mango trees. Abundant with fruit, some nearly 40 feet tall, in back yards, front yards, and along sidewalks—encountering a mango tree is an everyday occurrence.
Parenthetically, mango trees were brought to Puerto Rico around 1750, which were native to southern Asia. These prolific trees burst with fresh fruit dangling from their branches April through August. A staple fruit in the Puerto Rican diet, mangos abound at every community market, grocery store, or street-side vendor. And because many Puerto Ricans enjoy "backyard" mango trees, the fruit is often shared among neighbors, families, and friends.
Throughout July, be on the lookout for the Puerto Rican Keitt mangos showing off their emerald hues. This firm and juicy variety is often enjoyed during its green state. A green mango isn't at its sweet and soft stage yet and has the consistency of an apple. They're perfect for pickling, baking into pies or on their own picked off the tree! Hopefully this encourages you to try different varieties at different stages of ripeness throughout the year!
Furthermore, for a taste of the mango culture and sweeping views of a Puerto Rican mango farm, watch this mango spotlight to put you in the island mood!
 It's Always Sunny in Trinidad and Tobago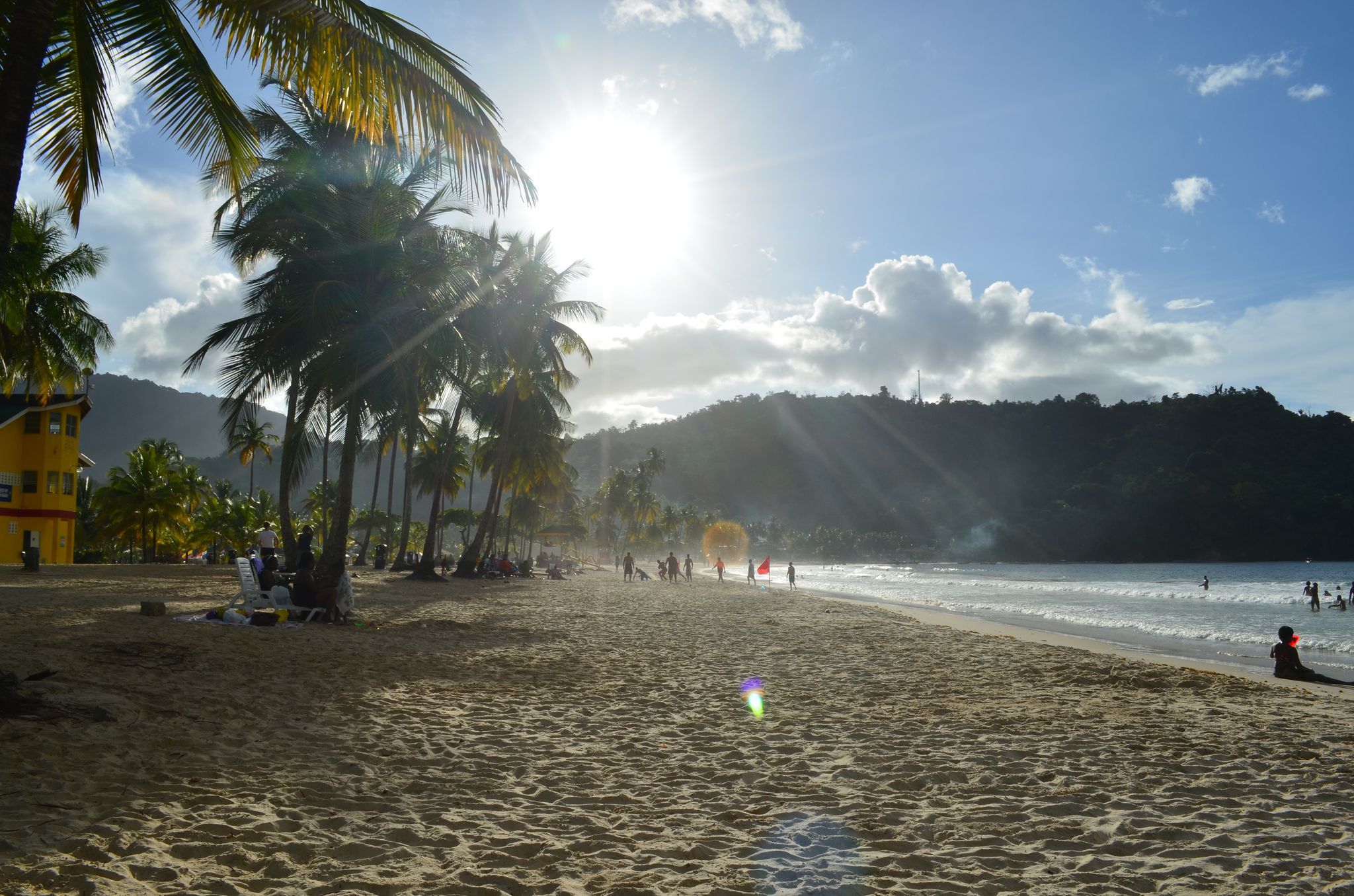 Maracas Beach, Trinidad
Trinidad and Tobago is a tranquil escape with its opulent greenery, palm trees, and powdery sand. The tropical ambiance provides more than just a lush backdrop, the twin island republic is a mixing bowl, where the culture is a blend of India, Africa, Europe, China, the Middle East and Latin America.  
Mangos Weave into Everyday Life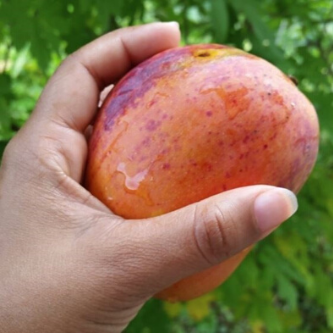 Thanks to the legacy of this region's melting-pot population, the cuisine you'll encounter here is the ultimate foodie's dream. Of course, it won't be hard finding some of the best mangos here, this native fruit lives in their history, childhood memories, music and daily cuisine.
Trinis (trih-nees), as they affectionately call one another, grow mangos in backyards, pick them off trees, use them in traditional recipes, and eat them fresh, green or ripe.
We caught up with Marissa Khan, the marketing manager at the NMB, and she fondly recalls eating mangos.
"In Trinidad and Tobago, everyone has a mango tree or two in their backyard. There are so many different varieties of mango in the Caribbean, but my absolute favorite is a Julie mango that is just perfectly ripe. The distinct aroma of the mango hits you first, almost like it's calling you. The fiberless flesh is a deep orange when it's ripe and the mango is deliciously sweet and creamy. I remember peeling the Julie mango skin off with my teeth, and eating it while standing outside the house, so as to not make a mess inside, because the mango is sooo juicy that it runs down your arms to your elbows."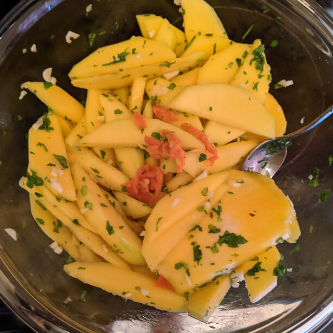 Mango Chow with lime, garlic, pepper and chadon beni.
Additionally, mangos in Trinidad and Tobago come in over 70 varieties. While the Julie and Starch mango are two of the most popular varieties, most Trinidadians are happy to list their favorites. In recipes, mangos are used in various forms, Mango Chow is a popular appetizer Trinidadians enjoy on hot summer nights. The recipe calls for seasoning a half-ripe mango with pepper, salt and chadon beni (also known as culantro, a Caribbean herb like cilantro). Learn more here on how to make at home!
On the streets, vendors sell the Trini sandwich, doubles, often topped with a mango relish, kuchela, either at breakfast time or late at night. Kuchela is a common chutney Trinis use to complement their savory dishes. Kuchela is made with shredded green mangos, chilies, garlic, masala and mustard oil. Chances are if you find a street cart vendor in Trinidad, you'll be able to give kuchela a try.
After all, from fresh mango to snacks to condiments, the Trini way of life includes mangos.
Tropical Getaway to Haiti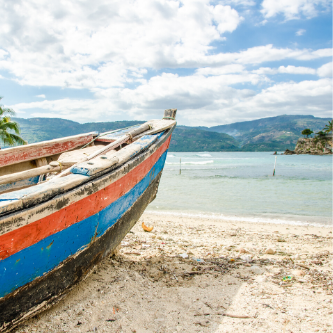 Serene beaches, tumbling waterfalls, and mountains topped with pine trees line the striking landscape of Haiti. This country easily rivals the natural beauty found anywhere else in the world.
Mangos Across the Bay 
During Springtime, you'll begin to see signs that mango season is coming. There are mango trees to be seen all over Haiti, their branches weighted and ready to be harvested. On the countryside each patio is graced by at least one mango tree. Even in the most urban area in the City Capital, chances are you'll find a couple of mango trees.
By the end of April, the season has truly bloomed, and it continues through June. It's common to see trucks coming from the provinces with fruit piled high as they make their way to food markets. Everywhere, you'll see street vendors sitting on the side of the roads selling mangos in baskets overfilled with several varieties in different stages of ripening.
To some, a mango is just a fruit, but to people of this country-it's personal. The mango does not only impact taste buds, but also the economy and the community. The business of mango supports many Haitian families from the growers and exporters to the street merchants. Mangos are life around here. And everyone has their favorite and will argue the values, flavors, and tastes to defend their choice.
In addition, there are over 100 varieties of mangos grown in Haiti. One popular variety that can be found in the U.S is the Francis mango. This varietal grows on small farms throughout Haiti and has bright yellow skin with green overtones. If you're lucky enough to spot this plump variety in the grocery store during peak season, be sure to add some to the shopping cart! Remember mangos are always in-season! You'll find certain kinds depending on the time of the year. Click here to learn more about varietal availability.
Mangos Bring Back Blissful Memories
Rolff Mitton, research manager at the NMB, takes us back to his family visits to Haiti.
"If you hop on a local public bus or a private transport and head North from the City Capital, you would two hours later arrive in the Department of Artibonite, once regarded as the center of rice production in Haiti. There, my family and I would spend our summer vacations and sometimes even Christmas. With paddy rice fields running for miles on either side of the road (most of them with at least one mango tree) the scenery was a very welcoming one.

Nothing beats the feeling of being out in the open on a paddy rice field, breathing fresh air, enjoying the beautiful landscape and savoring a delicious mango. In the community everyone knows everyone, and so I would finish eating a variety of mango in our fields and if I had not had my fill and wanted to taste another from the neighbor field, I could do so freely. And so, most summers my cousins and I would spend our entire morning, shirtless, diving into the local rivers and eating our fill of mango (many varieties). Mango in Haiti is not just a fruit but a mean by which most communities congregate and share."
Jamin' in Jamaica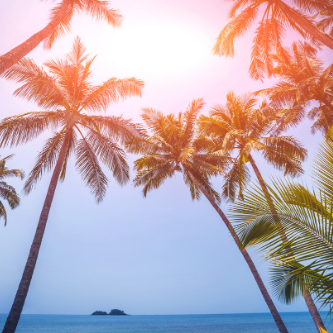 Jamaican beaches are certainly alluring and so is the culture. Adventurers can go caving or get their hiking boots on to explore the lush landscape. And you can't go to this region without swaying to the riddim of the land. Jamaica comes with its own soundtrack. Moreover, this country has certainly gifted the world with its musical roots that reach back to the folk songs of West Africa that lends its reach into reggae and contemporary electronic beats we know and love today.
Jamaican Flavors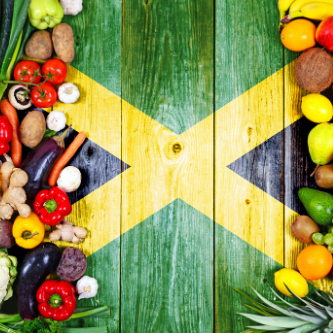 Also, like many aspects of Jamaican culture, the food is between the Old and New World. African spice rubs have changed into delightful jerk, while yam, rice and plantain form the basis of rich stews and fish. Throw in an array of tropical fruits that seem to just drip from the trees, and you'll taste how the Jamaican cultural story has adapted.
If you're a true mango lover, then this region will feel like a haven. Trees are laden with mangos and sold at almost every roadside stand. In the height of the season, the aroma of the ripened fruit will hang in the air. During peak mango season, islanders proudly shout "turn down the pots" as mangos serve as a meal replacement.
Taste the Island Life
Here are some Caribbean inspired recipes that'll transport you from Jamaica to Trinidad and many islands in between! This super fun, super fruit absorbs spices, heat and fire, making it an exceptional complement to many sweet and savory dishes.
Blackened Shrimp Skewers with Coconut Mango Pilaf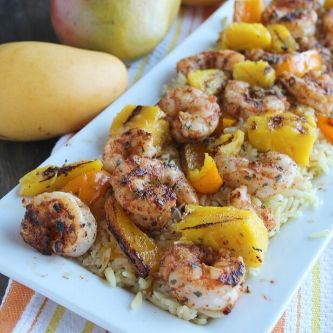 Jerk Rubbed Chicken Skewers with Mango Salsa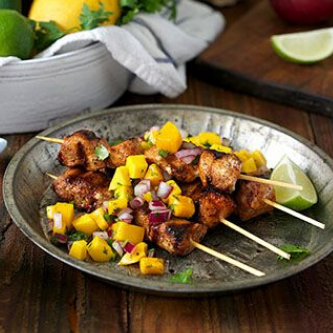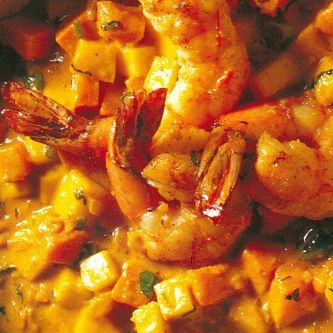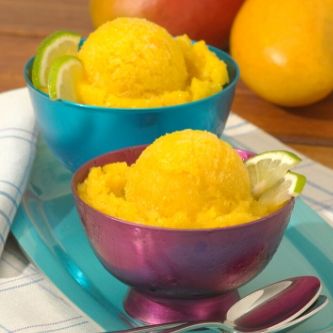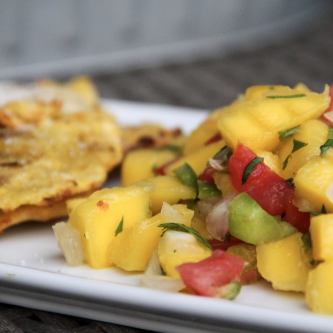 Until Next Time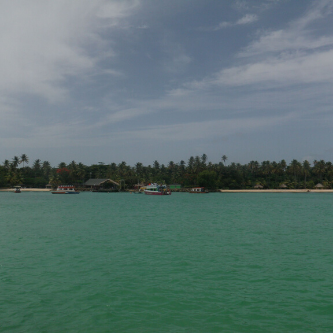 Lastly, in the Caribbean, mangos represent abundance, giving, and community-a sentiment that deserves to be carried around the world. Whether you're looking for adventure or to just relax, these islands are ready for anything. Feel the waves of flavor from this region through mango. Your summer will be brighter for it, and we know you're craving the tropical sunshine now. Be sure to join us next month as we travel off to South Asia.
Looking for more adventure? Take a trip with us to South America and more!