Blackened Shrimp Skewers with Coconut Mango Pilaf
PREP TIME20 minutes

COOK TIME18 minutes

TOTAL TIME

SERVINGS4
Blackened Shrimp Skewers with Coconut Mango Pilaf
Ingredients
Coconut Mango Pilaf
1 tsp canola oil
1 cup white rice
1 cup chicken stock
1 cup orzo
1 cup fresh mango, diced
1 cup coconut milk, canned
Blackening Spice
1 tbsp paprika
1 tbsp dried thyme
1 tsp dried basil
1 tsp ground black pepper
1 tsp kosher salt
1 tbsp onion powder
1 tbsp garlic powder
1 tsp dried oregano
1 tsp cayenne pepper (or to taste)
Blackened Shrimp Skewers
2 lbs shrimp, peeled and deveined
1 fresh mango, diced
1 pepper, red or orange
Cilantro, toasted coconut (optional)
PREP TIME 20 minutes

COOK TIME18 minutes

TOTAL TIME

SERVINGS4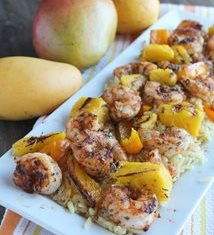 Instructions
In a small jar, combine blackening spice ingredients. Stir and shake. Set aside.

Using a medium sauce pan, heat canola oil over medium heat. Add rice and orzo. Slightly toast for 2-3 minutes. Add mango, chicken stock and coconut milk. Stir.

Cover and reduce heat to low. Cook for 15 minutes, stirring occasionally.

Rinse shrimp and dry with paper towel. Cut pepper into larger chunks.

Sprinkle blackening spice onto shrimp and allow to sit for 5 minutes. Add to skewers. There should be about 5 per skewer. If you're using wooden skewers, be sure to soak for at least 30 minutes.

On separate skewers, add mango and pepper chunks.

Add to grill, cooking until charred. Look for shrimp to slightly curl.

Once rice is done, pour onto a plate. Add skewers on top and sprinkle with chopped cilantro or toasted coconut as desired. Enjoy!