Ayesha Curry's Jerk Rubbed Chicken Skewers with Mango Salsa
PREP TIME45 minutes

COOK TIME15 minutes

TOTAL TIME

SERVINGS4
Ayesha Curry's Jerk Rubbed Chicken Skewers with Mango Salsa
Ingredients
Mango Salsa
2 cups chopped mango
1/4 cup red onion
1/4 cup cilantro
1/2 tablespoon lime juice
1 teaspoon finely diced jalapeno
1/4 teaspoon salt and pepper
Jerk Chicken Rub
3 cloves minced garlic
3 tablespoons olive oil
1 shallot finely minced
1 tablespoon fresh thyme leaves, finely minced
1 tablespoon brown sugar
1 teaspoon paprika
1/2 teaspoon ground clove
1/2 teaspoon ground allspice
1/2 teaspoon onion powder
1/2 teaspoon cayenne pepper
1/2 teaspoon ground black pepper
1 pound cubed chicken breast
Skewers (soaked in water)
PREP TIME 45 minutes

COOK TIME15 minutes

TOTAL TIME

SERVINGS4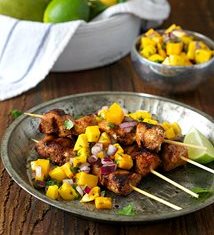 Instructions
Mango Salsa
Combine all ingredients. Let sit and allow flavors to meld while you prepare the chicken.
Jerk Chicken Rub
Mix together the garlic, olive oil and the next 9 ingredients in a bowl. Coat cubed chicken well with the rub. Marinate for thirty minutes or more.Skewer 4-6 pieces of chicken per stick. Cook on a grill pan at medium high heat. Turn frequently to avoid burning. Cook for about 15 minutes or until juices run clear.

Plate the chicken on or off the skewer and spoon the Mango Salsa on top.