Spring Forward with Mangos this Season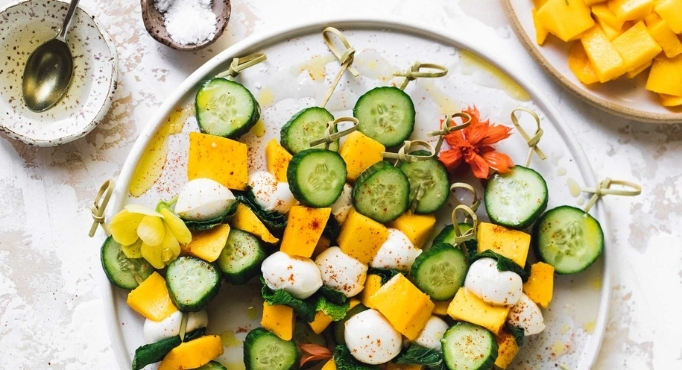 Warmer weather, blooming flowers, and bountiful mangos are the first signs spring has arrived! Although mangos can be found year-round, this time of year marks the start for peak availability of Honey, Keitt, Francis, Haden, and Tommy Atkins varieties. And remember, when choosing a mango — it's all in the feel, don't judge by the color.
If you're looking to incorporate more color into your springtime recipes, try these out: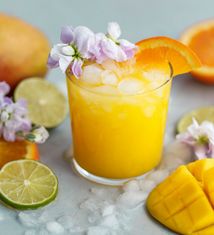 This thirst-quenching punch is made with fresh mango, pineapple and lemon with lime citrus flavors. The perfect spring sipper to have while enjoying the better weather.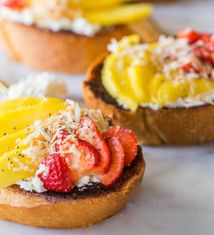 A spread of whipped cream cheese on French bread, fresh fruit, with cinnamon sprinkled on top. Quick and easy way to enjoy mangos for breakfast!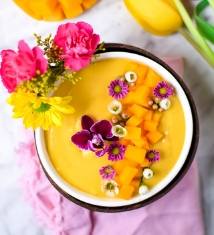 This mango smoothie bowl comes together with a perfect blend of fresh mango, coconut cream, and ginger spices for a bright, vibrant taste and delicious flavor.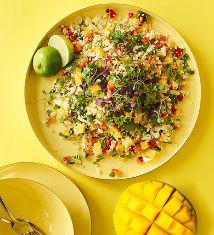 Light, refreshing and filled with tremendous amounts of flavor. This is a healthy way to creatively enjoy a "rice" dish without the rice!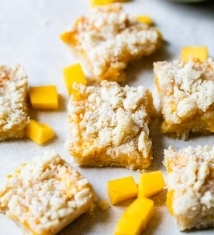 Life is much sweeter with some mango crumb bars in the mix. Savor the flavor with these delicious bars filled with fresh jellied mangos.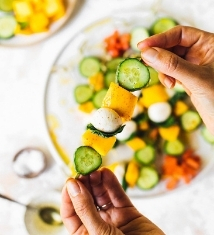 Juicy mango, crisp cucumber, creamy mozzarella, and cool mint all nestled together on a skewer with a drizzle of white balsamic reduction.
Happy Spring!
You made it through winter, it's time for those backyard retreats again with these delights in hand. And on top of their delicious flavor that'll elevate any sweet or savory dish, mangos are a healthy fruit containing over 20 different vitamins and minerals.