Strawberry Mango Cinnamon Toast
PREP TIME15 minutes

COOK TIME2 minutes

TOTAL TIME17 minutes

SERVINGS4
Recipe Submitted by Julie Gransee, Lovely Little Kitchen
Strawberry Mango Cinnamon Toast
Ingredients
4 tbsp Coconut Flakes
1 tbsp Ground Cinnamon
1 tbsp Granulated Sugar
2 tbsp Softened Butter
4 Thick Slices of French Bread
4 tbsp Whipped Cream Cheese
1 Mango, Thinly Sliced and Removed from Peel
4 4 Strawberries, Sliced
1/2 tsp Chia Seeds
PREP TIME 15 minutes

COOK TIME2 minutes

TOTAL TIME17 minutes

SERVINGS4
Recipe Submitted by Julie Gransee, Lovely Little Kitchen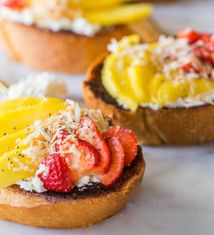 Instructions
Toast the Coconut
Spread coconut out in an even layer in a dry pan.

Turn heat to medium high and stir constantly for 3 to 4 minutes or until coconut is golden brown.

Remove from heat and set aside.
Make the Cinnamon Toast
In a small bowl, mix cinnamon and sugar together.

Spread butter onto one side of the French bread slices and place them on a baking sheet.

Sprinkle 1 to 2 teaspoons of cinnamon sugar evenly over the buttered bread.

Place the bread under the broiler, watching closely, for about 2 minutes or until the tops are golden brown and crisp.
To Assemble
Spread a tablespoon of whipped cream cheese on each piece of toast and top with mango and strawberry slices. Sprinkle toasted coconut and chia seeds on top and serve. Makes 4 pieces of toast.