Savory Waffles with Fried Eggs and Mango Salsa
PREP TIME40 minutes

COOK TIME40 minutes

TOTAL TIME

SERVINGS4
Recipe from Jeanine Donofrio of Love and Lemons
Savory Waffles with Fried Eggs and Mango Salsa
Ingredients
Salsa
1 Medium Mango, Peeled, Pitted and Diced
1 Small Avocado, Peeled, Pitted and Diced
1 Lime, Juiced (About 2 Tablespoons of Fresh lime Juice)
2 Scallions, Chopped
1/2 tsp Ground Smoked Paprika
1/4 tsp Red Chili Flakes
1/4 tsp Salt
Waffles
1/2 cup All Purpose Flour
1/2 cup Whole Wheat Flour
1 1/2 tsp Baking Powder
1 tbsp Sugar
1 tsp Chili Powder
1/2 tsp Salt
1/2 cup Milk
2 Eggs, Beaten
2 tbsp Unsalted Butter, Melted and Cooled
Fried Eggs
4 Eggs for Frying
1/2 tsp Olive Oil or Butter
A Pinch of Salt and Pepper
PREP TIME 40 minutes

COOK TIME40 minutes

TOTAL TIME

SERVINGS4
Recipe from Jeanine Donofrio of Love and Lemons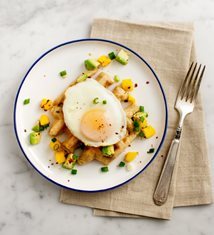 Instructions
Salsa
In a small glass bowl mix together the diced mango, avocado, lime juice, scallions, smoked paprika, red chili flakes and salt. Taste and adjust seasonings.

Chill until ready to serve.
Waffles
Preheat your waffle iron.

In medium bowl, whisk together flour, baking powder, sugar, chili powder and salt.

In a small separate bowl, whisk together the milk, eggs and melted butter.

Pour the wet ingredients into the bowl with the dry ingredients and mix until just combined.

Pour the waffle batter into your preheated waffle iron. This batter is enough to make 4-5 thick square waffles, depending on the size of your waffle iron, your yield may vary.
Fried Eggs
Heat oil in a large skillet over medium-low heat.

Crack 4 eggs into the skillet and cook until whites are set but the yolks are still runny. About 4-5 minutes. (You may need to cook 2 eggs at a time, depending on the size of your pan).
Assembly
Assemble by spreading a touch of butter on each waffle, then top with a spoonful of mango-avocado salsa and the fried egg. Add a pinch of salt and pepper on the top of each egg.