Coconut Mango Overnight Oats
PREP TIME30 minutes

COOK TIME5 minutes

TOTAL TIME

SERVINGS1
Coconut Mango Overnight Oats
Ingredients
1/3 cup Rolled Oats
½ cup Fresh or Frozen Riced Cauliflower
1 tbsp Coconut Butter
1 tsp Cinnamon
1 serving Vanilla Protein Powder (optional)
1 tsp Vanilla
1-2 tsp Chia Seeds
2 tbsp Coconut Flakes
1/2 cup Unsweetened Almond Milk
1/2 tbsp Honey
2/3 cup Granola
Fresh Mango (Cubed)
PREP TIME 30 minutes

COOK TIME5 minutes

TOTAL TIME

SERVINGS1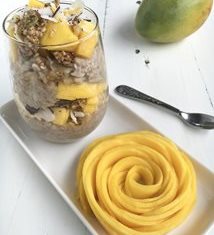 Instructions
In a small pot, heat rolled oats according to package in water. 

After several minutes, pour in riced cauliflower, melted coconut butter, cinnamon, protein (if using), vanilla, chia seeds, 1 tbs coconut flakes and almond milk.

Stir, and let cook another 2 minutes.

Remove from burner to let cool. 

Store in jar or bowl overnight. In the morning, layer oats with cubed mango, coconut flakes and granola, then drizzle honey over the top.