Mango and Almond Custard
PREP TIME15 minutes

COOK TIME15 minutes

TOTAL TIME

SERVINGS6
Ingredients
1 mango, diced
1/2 cup slivered, toasted almonds
1/4 tsp cinnamon
2 tbsp powdered sugar
3/4 cup whipping cream
2 tsp vanilla extract
4 large egg yolks
3 cup half-and-half
1 3/4 tsp salt
3 tbsp cornstarch
3/4 cup sugar
PREP TIME 15 minutes

COOK TIME15 minutes

TOTAL TIME

SERVINGS6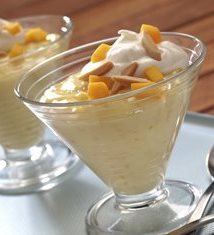 Instructions
In a medium saucepan, combine sugar, cornstarch and salt. Whisk in half-and-half and egg yolks.

Over medium-high heat, bring mixture to a simmer, whisking constantly. Reduce heat to medium-low and cook, stirring constantly, until the mixture thickens, about 2 minutes.

Pour custard through a fine mesh strainer into a medium bowl. Stir in vanilla extract. Cover with plastic wrap, placing plastic wrap directly on surface of custard. Refrigerate, until cooled and set, at least 3 hours.

Meanwhile, puree ½ of the diced mango in blender or food processor until smooth, stir into cooled custard. Set aside remaining diced mango.

In another medium bowl, beat cream, powdered sugar and cinnamon until stiff peaks form.

Spoon custard into 6 dessert cups and top with whipped cream, then sprinkle equal amounts of almonds and the reserved diced mango.