Mango Spears
PREP TIME5 minutes

COOK TIME

TOTAL TIME

SERVINGS1
PREP TIME 5 minutes

COOK TIME

TOTAL TIME

SERVINGS1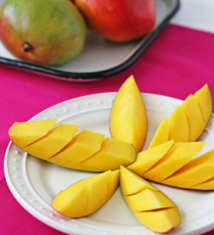 Instructions
With a sharp knife, slice off the sides of the mango, avoiding the large seed in the middle. 

Slice each half into vertical thirds.

Then cutting on the diagonal, score each slice, creating 1-inch thick bites, but be careful not to cut all the way through to the skin.

The result is several mango spears that are super easy to eat and portable with little effort.