Pulled Pork And Mango Summer Rolls With Carolina Mustard Sauce
PREP TIME45 minutes

COOK TIME3 minutes

TOTAL TIME48 minutes

SERVINGS5
Source: Chef Allison Leono, Private Chef, Goodyear, AZ
Pulled Pork And Mango Summer Rolls With Carolina Mustard Sauce
Ingredients
Carolina Mustard Sauce
3/4 cup Prepared yellow mustard
1/2 cup Honey
1/4 cup Malt Vinegar
2 tbsp Ketchup
1 tbsp Dark Brown Sugar, Packed
2 tsp Worcestershire Sauce
1 tsp Hot Sauce
2 tbsp Vegetable Oil
Pulled Pork
1 small (1 to 2 pounds) boneless pork shoulder (Boston butt)
dash Kosher salt and Freshly cracked black pepper
1 medium onion, sliced
2 12-ounce cans beer
Summer Rolls
10 round rice paper sheets, 8-inch
1 large ripe fresh mango, peeled, pitted and thinly sliced, lengthwise
10 small Boston lettuce leaves
1 small cucumber, very thinly sliced, lengthwise
1 small avocado, thinly sliced, lengthwise
1-1/2 cups pulled pork, warm
1 small tart apple, peeled, sliced and cut into thin strips
1 cup basil leaves, chiffonade
1/2 cup fresh mint leaves
PREP TIME 45 minutes

COOK TIME3 minutes

TOTAL TIME48 minutes

SERVINGS5
Source: Chef Allison Leono, Private Chef, Goodyear, AZ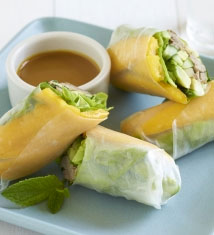 Instructions
To make the Carolina Mustard Sauce:
Mix all ingredients together in a small bowl. Stir until brown sugar is dissolved and everything is well blended.

Cover and refrigerate overnight. Sauce can be made up to two weeks in advance.
To make the Pulled Pork:
Preheat oven to 325 degrees F. Heat oil in a Dutch oven or other heavy ovenproof pot over medium-high heat.

Meanwhile season pork with salt and pepper.

When oil is hot, sear meat on all sides.

Add onion and beer and bring to a boil.

Cover and bake until pork is very tender, at least three hours.

Let cool for 15 to 20 minutes then shred with a fork. Pulled pork can be made a day or two in advance and reheated.
To assemble the Summer Rolls:
Hydrate rice paper sheets one at a time in hot water for 10 to 15 seconds, then pat dry.

Place the rice paper on a cutting board and layer in the center: 2 to 4 mango slices, 1 lettuce leaf, 3 cucumber slices, one avocado slice, 2 tablespoons pulled pork, 2 apple strips, a scant tablespoon of basil and 1 tablespoon mint.

Fold the top and bottom in, and then roll up tightly from the left, like a burrito.

Place the role seam side down on a serving platter. Cover with a damp paper towel as you build remaining rolls.

Plate two rolls per serving, whole or cut in half, with Carolina Mustard Sauce.