Mango Spring Rolls
PREP TIME30 minutes

COOK TIME

TOTAL TIME

SERVINGS5
Ingredients
Spring Rolls
1/2 Fresh Mango
1/4 Small Head Purple Cabbage
5 Green Onion Spears
1 Cup Shredded Carrot
1/2 Medium Cucumber
1/2 Medium Red Bell Pepper
Handful of Cilantro
5 Pieces of Rice Paper
Almond Butter Dipping Sauce
3 Tbs Creamy Almond Butter
1 Tsp Tamari
1/2 Lime
1 Tbs Honey
2-3 Tbs Hot Filtered Water
PREP TIME 30 minutes

COOK TIME

TOTAL TIME

SERVINGS5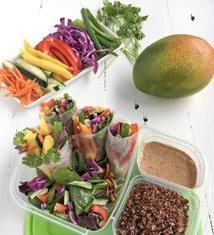 Instructions
Slice the mango into long, narrow strips and set aside. 

Slice cabbage, onion, cucumber and red bell pepper into very thin 4-inch pieces and set aside.

Prepare rice paper as instructed on package.

Once pliable, place a few of each ingredient (including cilantro and carrots) in the center of the paper, folding in the sides and rolling until all veggies are inside and paper is closed.

For dipping sauce, whisk or blend together all ingredients until consistency is creamy.