Grilled Mango with Whipped Honey Ricotta Cream
PREP TIME

COOK TIME

TOTAL TIME

SERVINGS0
Recipe courtesy of Julie Gransee, Lovely Little Kitchen
Grilled Mango with Whipped Honey Ricotta Cream
Ingredients
2 fresh, whole mangos
1/2 cup heavy cream
2 tbsp honey, plus more for drizzling
Pinch of sea salt
1 tsp oil
1/2 cup whole milk ricotta
2 tbsp chopped pistachios
PREP TIME

COOK TIME

TOTAL TIME

SERVINGS0
Recipe courtesy of Julie Gransee, Lovely Little Kitchen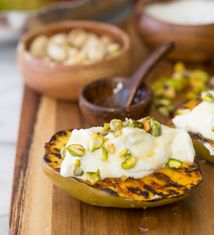 Instructions
Preheat grill to 400 degrees F.

Cut fresh mango to remove cheeks. Brush with oil.

While the grill is preheating, make the Whipped Honey Ricotta Cream: In a medium bowl, whip heavy cream until soft peaks form. Add the ricotta and honey, and whip again to incorporate.

Place mangos on the center of the grill, flesh side down. Grill for 1 minute, then rotate the mangos 90 degrees and grill for 1 more minute.

To assemble: spoon the Whipped Honey Ricotta Cream over each grilled mango. Add pistachios, a drizzle of honey, and a pinch of sea salt. Serve warm.