Tropical Mango Bowls with Citrus Drizzle
PREP TIME10 minutes

COOK TIME20 minutes

TOTAL TIME

SERVINGS0
Recipe submitted by Sonja and Alex Overhiser, A Couple Cooks
Tropical Mango Bowls with Citrus Drizzle
Ingredients
For the bowls
1½ cups quinoa
1/2 tsp kosher salt
3-4 Francis mangos
1 avocado
1 red pepper
1/2 small red cabbage
8 cups mixed greens
Cashews, for the garnish
Cilantro, for the garnish (optional)
For the citrus drizzle
1/2 cup raw cashews
1 tsp minced ginger
1/2 cup orange juice (1 large orange)
1 tbsp lime juice
1/4 tsp kosher salt
PREP TIME 10 minutes

COOK TIME20 minutes

TOTAL TIME

SERVINGS0
Recipe submitted by Sonja and Alex Overhiser, A Couple Cooks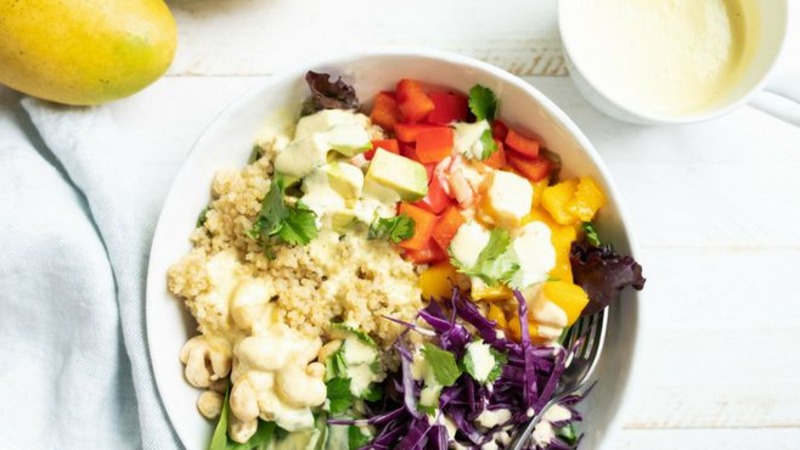 Instructions
Place the cashews in a bowl and soak them while making the recipe, or at least 20 minutes.

Cook the quinoa: Using a strainer, rinse the quinoa under cold water, then drain it completely. Place the quinoa in a saucepan with 3 cups water. Bring it to a boil, then reduce the heat to low. Stir once, then simmer where the water is just bubbling for about 17 to 20 minutes, until the water has been completely absorbed (check by pulling back the quinoa with a fork to see if water remains). Remove from the heat, cover the pot and allow the quinoa to steam for 5 minutes, then fluff the quinoa with a fork. Stir in 1/2 teaspoon kosher salt.

Meanwhile, chop the mangos, avocado, and red pepper. Thinly slice the red cabbage.

When the quinoa is done, drain the cashews. Peel and mince the ginger. Add cashews, ginger, orange juice, lime juice, and kosher salt to the bowl of a high-speed blender. Blend until the mixture is completely smooth. Add more water as you go if needed. Taste and add more salt or lime juice if desired.

To serve, place the quinoa and greens in a bowl, and arrange the veggies and mango on top. Garnish with cashews and torn cilantro, and drizzle generously with dressing (make sure to use enough to flavor the entire bowl; the dressing also brings in added protein!).