Taste of the Tropics Mango Kid's Wrap
PREP TIME15 minutes

COOK TIME

TOTAL TIME

SERVINGS4
Source: Chef Allen Susser
Taste of the Tropics Mango Kid's Wrap
Ingredients
1 small ripe, slightly soft mango, peeled and pitted
1 cup Greek yogurt
1/4 tsp cumin
Pinch cayenne pepper
1/2 tsp garlic powder
1/2 tsp kosher salt
9 tbsp prepared fresh chili garlic sauce
2 tbsp olive oil
2 cups large chicken breasts, pre-cooked and sliced, seasoned with salt and pepper to taste
1 cup shredded romaine lettuce
1 tbsp freshly chopped cilantro
4 large flour tortillas
PREP TIME 15 minutes

COOK TIME

TOTAL TIME

SERVINGS4
Source: Chef Allen Susser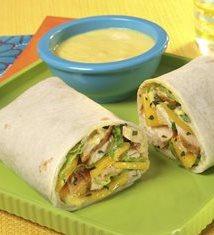 Instructions
For the sauce
Place the mango, yogurt, cumin and cayenne in a blender and blend together well. 

Add 1 tablespoon water to thin the mixture if necessary.

Refrigerate until ready to use.
To prepare the wrap filling
In a small bowl whisk together the garlic, salt, lime juice and olive oil.

Place chicken and lettuce in a large bowl and add dressing.

Fold in the cilantro and mango.
To finish the wrap
Place the tortilla on a clear work space.

Spread 1 tablespoon sauce over the wrap.

Next scoop 1/2 to 3/4 cup of the mango chicken salad in the center, fold up both sides and roll up. 

Repeat with remaining tortillas.

Serve with remaining sauce on the side.
Serving Suggestions
Serve with baked chips. Turn leftovers into a quesadilla by adding your favorite cheese and melting, or serve as a simple salad without tortillas.