Spiralized Green Mango Noodle Salad
PREP TIME3 minutes

COOK TIME10 minutes

TOTAL TIME

SERVINGS10
Recipe courtesy of Chef Dave Woolley
* Recommended mango ripeness stage 2 to 3, firm to the touch
**Spiralizer works best with smaller mangos; use the spiralizer to peel the mango
***Double walnuts and omit cheese to make this a vegan dish
Spiralized Green Mango Noodle Salad
Ingredients
9 Green* (under ripe) small** mangos, washed and spiralized
2 tbsp Honey
2 tbsp Fresh Key Lime Juice, strained
2 tsp Black Sesame Seeds, lightly toasted
¼ cup Fresh Mint Leaves, very lightly chopped or torn, just before serving
1/3 cup Kale Pesto (recipe provided)
Sea Salt (to taste)
1 tsp Tajin, for garnish
Kale Pesto
1 cup Packed Torn Kale Leaves, stems removed
1/2 cup Packed Fresh Basil Leaves
2 tsp Sea Salt
2 tbsp Extra Virgin Olive Oil
2 tbsp Toasted Walnuts***
1 Garlic Clove, chopped
2 tbsp Grated Parmesan Cheese
PREP TIME 3 minutes

COOK TIME10 minutes

TOTAL TIME

SERVINGS10
Recipe courtesy of Chef Dave Woolley
* Recommended mango ripeness stage 2 to 3, firm to the touch
**Spiralizer works best with smaller mangos; use the spiralizer to peel the mango
***Double walnuts and omit cheese to make this a vegan dish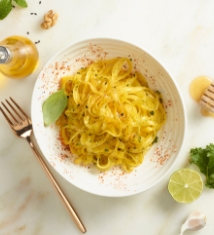 Instructions
To spiralize green mangos: Use an apple slicer or attachment for KitchenAid. Because mangos have seeds, set up to peel up and down the length of the mango. When using a table top apple slicer, remove the slicing insert and it will continually "peel" the outside if you continue to start and stop. Spiralize green mangos up to 3 hours in advance of service to maintain quality of the noodle.

Mix together honey, key lime juice, sesame seeds, mint leaves, and Kale Pesto. Season with salt.

Just before serving, gently toss spiralized green mango noodles with kale mixture. Garnish with Tajin.
Kale Pesto
Combine all ingredients in a food processor or blender until nearly smooth, with some particulates.