Mango and Fresh Fall Salad Bento Box
PREP TIME15 minutes

COOK TIME25 minutes

TOTAL TIME

SERVINGS1
Mango and Fresh Fall Salad Bento Box
Ingredients
Fresh Fall Salad
2 cups mixed greens
1 1/2 cups sweet potato
1/2 ear corn
1/2 can of organic, low-sodium black beans, drained and rinsed
1/2 cup purple cabbage, shredded
2 tbsp pumpkin seeds, roasted in the oven at 400° for 5-10 minutes
Avocado or olive oil spray
Avocado or olive oil spray
1 1/2 cups fresh cilantro
1/4 cup olive oil
1 tbsp apple cider vinegar
1 large avocado
2 small limes, juiced
1 tbsp minced garlic
1/4 tsp sea salt
1/4 tsp ground pepper
2-3 tbsp water
Bento Additions
1 fresh mango, cubed
Sesame rice crackers
PREP TIME 15 minutes

COOK TIME25 minutes

TOTAL TIME

SERVINGS1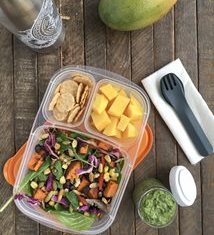 Instructions
Wash, dry and chop sweet potato into cubes. Toss with avocado oil, garlic powder and seasoning of your choice.

Broil in oven for 10-12 minutes, tossing towards the end. To grill corn, spray with avocado or olive oil, season with garlic powder and ground pepper, and grill about 12 minutes, rotating every 5 minutes or so.

Add these two ingredients to mixed greens along with cabbage, black beans and pumpkin seeds. Cilantro Avocado Sauce: pulse all ingredients in food processor or blender until consistency is creamy. Pair with mango chunks and sesame rice crackers.