Spice and Ice
PREP TIME10 minutes

COOK TIME

TOTAL TIME

SERVINGS1
Source: Adam Seger, Mixologist, Tanzy, Scottsdale, AZ
Ingredients
2 ounces rum
1 ime, freshly squeezed
3/4 ounce Ginger-Habanero Syrup, recipe included
3/4 ounce fresh mango puree
Adam's 7 Spice Blend, recipe included
1 thin slice fresh mango, for garnish (1/3 ounce)
PREP TIME 10 minutes

COOK TIME

TOTAL TIME

SERVINGS1
Source: Adam Seger, Mixologist, Tanzy, Scottsdale, AZ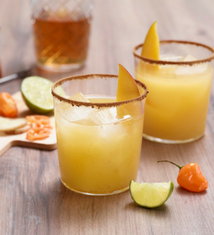 Instructions
Spice and Ice (Mango-Ginger-Habanero Daiquiri)
Shake first 4 ingredients vigorously and strain into a chilled 10-ounce cocktail glass rimmed with Adam's 7 Spice Blend.

Garnish with fresh mango wedge.
Ginger-Habanero Syrup:
Heat 1 cup sugar and 1 cup water to just before boiling with 1 seeded habanero pepper and 3 ounces sliced fresh ginger.

Remove habanero 5 minutes after taking off of heat.

Cool and strain out ginger. Keeps sealed in the refrigerator 3 weeks.
Adam's 7 Spice Blend:
Whisk together 2 parts ground cinnamon, 2 parts ground fennel, 2 parts ground ginger, 1 part ground Szechuan peppercorns, 1 part ground cloves, 1 part ground star anise, 1 part ground cardamom.

Blend total spice volume with an equal part of superfine bar sugar.

(Alternatively, start with whole spices and turbinado sugar, in equal proportions and blend in a Vitamix. The oil in whole spices are richer and get absorbed into the turbinado sugar as it cracks in a high power blender.)