Mangonada
PREP TIME20 minutes

COOK TIME

TOTAL TIME

SERVINGS64
Recipe courtesy of Chef Dave Woolley
Ingredients
6 cups very ripe mangos, medium diced
1 cup water*
2 tbsp Agave nectar
5 cups ice cubes
2 limes halved
8 tbsp chamoy sauce (Chilerito brand is recommended)
4 tsp Tajin seasoning, original
8 Tamarindo rolls/straws optional, but highly recommended (the brand Bazukazo Tarugos recommended)
PREP TIME 20 minutes

COOK TIME

TOTAL TIME

SERVINGS64
Recipe courtesy of Chef Dave Woolley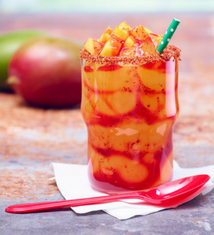 Instructions
Wash, peel and clean mango flesh off of seed and dice medium.  Reserve 1 cup of diced mango for garnish the place the remaining dice onto a wax or parchment paper lined cookie tray and partially freeze the mango for about 1-1½ hours. Blend water and agave together.

Make in batches by placing icy mango dice, water-agave nectar blend and fresh squeezed lime juice, and then ice into a blender. Blend until smooth and slushy.

Add 3/4 tablespoons (reserve the other ¼ to garnish top) of chamoy and 3/4 teaspoon of Tajin to each glass. Swirl the chamoy up the side of each glass then sprinkle in the Tajin.

Pour the icy and slushy mango mixture into each glass and top with the remaining fresh diced mango, more chamoy, and a sprinkle of tajin seasoning.

Serve the Mangonada immediately with Tamarindo rolls/straws.