Smoothie Packs
PREP TIME

COOK TIME

TOTAL TIME

SERVINGS0
Ingredients
1 Fresh Mango, Sliced or 2 Cups of Frozen Mango Chunks
Supplemental Fruit of Choice, To Preference
1 Cup Spinach
PREP TIME

COOK TIME

TOTAL TIME

SERVINGS0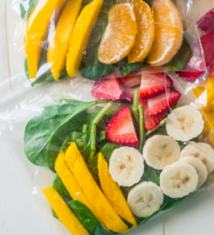 Instructions
Use fresh mango slices or frozen mango chunks to pre-make smoothie packs for easy breakfasts during busy mornings. 

Simply slice your favorite fruits, add some greens (for extra healthy-boosting yumminess!) and then divide them between individual baggies.

Place baggies in the freezer and have them ready to dump into your blender when you need a healthy breakfast in 2 minutes FLAT.