Pork Carnitas Tacos with Mango, Tomatillo and Chipotle Salsa
PREP TIME

COOK TIME

TOTAL TIME

SERVINGS10
Recipes Developed by Jorge Fitz and Beto Estua, Casa Jacaranda, Mexico City
Pork Carnitas Tacos with Mango, Tomatillo and Chipotle Salsa
Ingredients
4 Cloves Garlic
1 ½ Cup Water
1 lb Pork Shoulder
1 lb Pork Top Loin
1 lb Pork Rib, Boneless
1 Tbsp Sea Salt
1 Tbsp Vegetable Oil
1 each Whole Banana Leaf
2 Leaves Mexican Bay Leaf
6 Berries - Allspice
2 Cups Water
1/2 Each Medium White Onion, Thinly Sliced
1/3 Cup Rendered Pork Lard
20 Each Corn Tortillas
1 Cup Cilantro
20 Each Fresh Lime Wedge
1 ¼ Quart Mango, Tomatillo and Chipotle Salsa
PREP TIME

COOK TIME

TOTAL TIME

SERVINGS10
Recipes Developed by Jorge Fitz and Beto Estua, Casa Jacaranda, Mexico City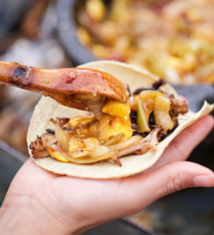 Instructions
Peel the garlic cloves and grind well in a food processor, while slowly adding the water. Reserve.

Rinse the meat and pat dry with paper towels.

Place the meat in a large dish.

Cover the meat with the pureed garlic mixture using a basting brush, then sprinkle with sea salt.

Cover and refrigerate for at least 1 hour or overnight.

Remove meat from the marinade.

Heat the oil in a heavy bottom pan, Dutch oven, or directly in the pressure cooker over medium high heat.

Sear all the pieces of meat in the oil until brown on all sides (the meat will look thoroughly cooked and will start to smell good). Using tongs, remove the meat from the pan and set aside on a tray that will catch any drippings.

When all the meat is browned, let it rest for at about 15 minutes on the tray.

Add all the meat drippings to the pot, along with the Mexican bay leaves, the allspice and the 2 cups of water.

Cut the long banana leaf in two shorter sections, placing the two sections – dull side down and shiny side on top – to make a cross.

Wrap the meat with the crossed banana leaves, then place into the pressure cooker. 

Place the meat in the pressure cooker for 45 minutes, starting to time it when the pot begins to hiss, or when the pressure has reached optimal level.

Meanwhile, using a large fry pan, melt the lard over medium-high heat and add the sliced white onion. Sautée until the onion until it darkens on the thinner parts.

Take the meat out of the pressure cooker, drain well and add into the lard and onion mixture. Reduce the heat to medium.

Allow the meat to caramelize, turning occasionally. Continue to heat on the stove until it darkens on all sides and begins to fall apart. 

Serve immediately with warm tortillas, chopped cilantro, slice of lime and Mango, Tomatillo and Chipotle Salsa.