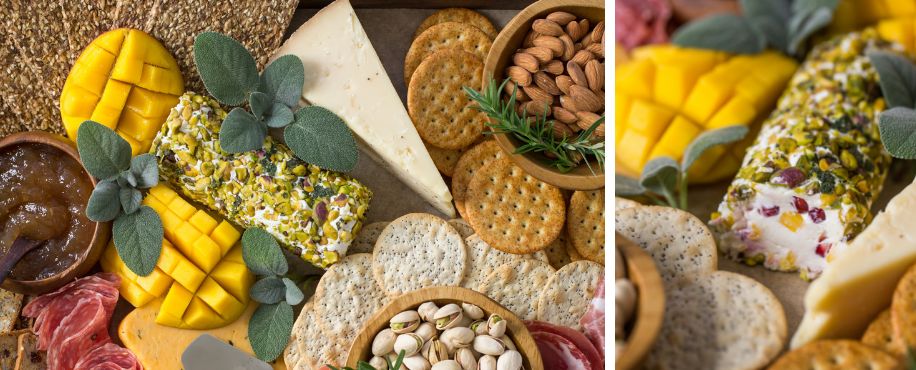 INGREDIENTS
8 ounces goat cheese
1/4 cup diced fresh mango
1/4 cup pomegranate arils
1 cup chopped pistachios
2 tablespoons butter
10 fresh sage leaves (or 1 teaspoon dry sage leaves)
In the bowl of an electric mixer with the whisk attachment, whip goat cheese until soft and creamy. Add finely diced mango and pomegranate arils and fold in gently.
Place the whipped goat cheese mixture on a piece of plastic wrap, and roll to form a log, twisting the ends tightly. Chill until firm at least 3 to 4 hours, or longer.
In a small pan, melt butter over medium high heat. Add sage leaves and fry, about 1 to 2 minutes per side or until crispy. Remove from the heat and drain on a paper towel.
Crush the fried sage leaves into bits and mix with the chopped pistachios.
Spread the mixture onto a clean work surface and roll the chilled cheese log into the nut mixture until all sides are evenly coated.
Wrap and chill – allow the cheese to come to room temperate when serving for easy spreading.
Recipe note: For a quick tutorial on how to cut a mango, check out this one-pager.
Recipe submitted by Julie Gransee, Lovely Little Kitchen