Mango Habanero Shrimp Aguachile
PREP TIME25 minutes

COOK TIME

TOTAL TIME

SERVINGS4
Mango Habanero Shrimp Aguachile
Ingredients
1 lb Jumbo Shrimp, shells removed, deveined, butterflied
1 1/2 cup Lime Juie
1 Mango, peeled and diced
1/2 cup Pineapple juice
2 Garlic Cloves
1 Habanero Pepper, stemmed and seeds removed
1/4 tsp Ground Coriander
1 tsp Kosher Salt, more to taste
1 Cucumber, peeled and sliced
1/4 cup Red Onion, thinly sliced
1 Avocado, sliced
Sea Salt
PREP TIME 25 minutes

COOK TIME

TOTAL TIME

SERVINGS4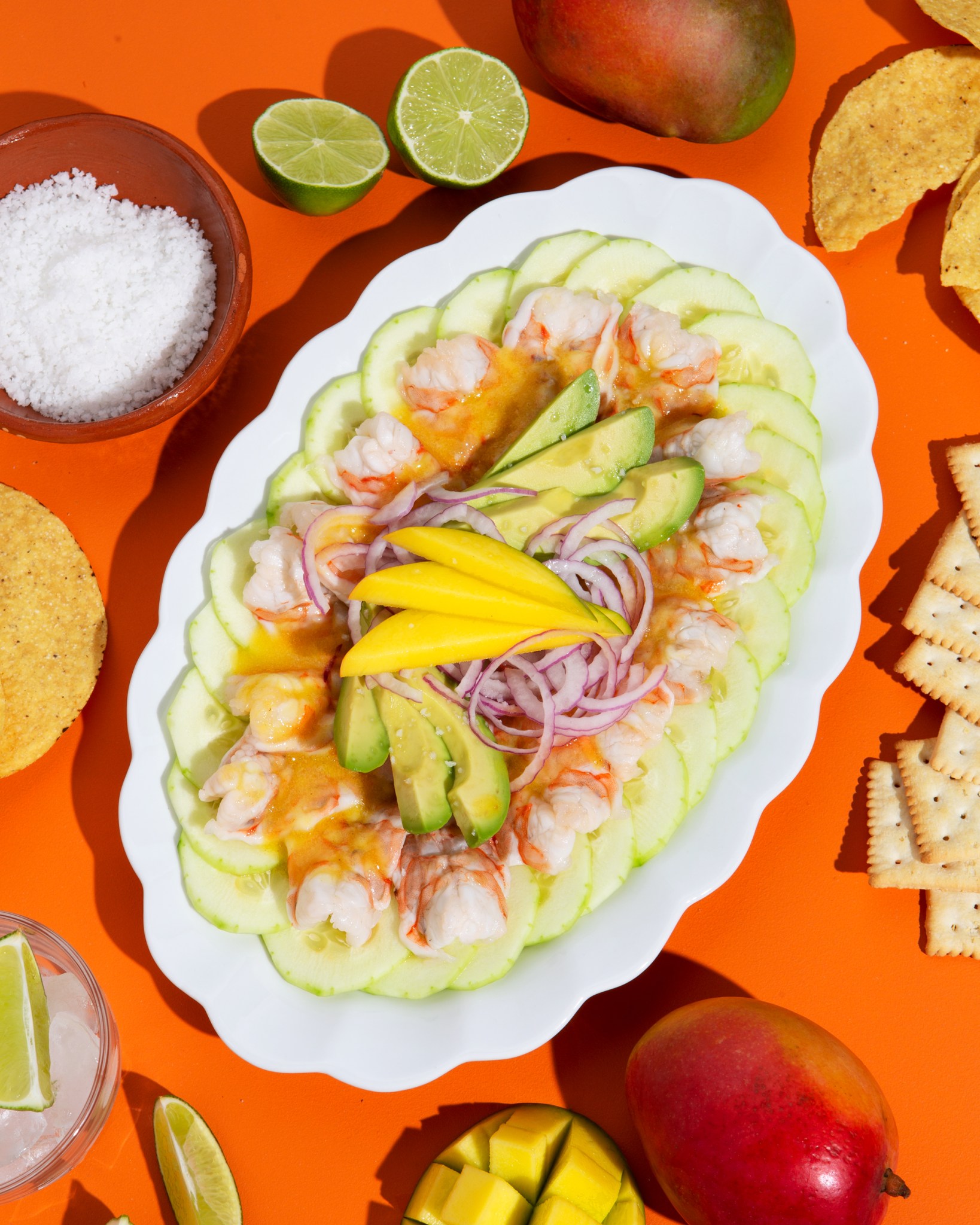 Instructions
In a small bowl combine the shrimp with 1 cup of fresh lime juice, making sure the shrimp is completely submerged. Let chill in the fridge. The shrimp will take 10-12 minutes to cook in the lime juice, they will turn pink once fully cooked.

While the shrimp cook in the lime juice, make the mango habanero sauce. In a blender, combine the remaining 1/2 cup of lime juice, half of the diced mango, the pineapple juice, garlic, habanero, coriander and salt. Blend until smooth then taste for salt.

On a large serving dish, lay down your cucumber on the outside perimeter of your dish. Arrange your shrimp butterfly side down with half of the head end on the cucumber and the tail end on the dish. Nestle the red onion in the center, then lay the avocado on top followed by the rest of the diced mango. Drizzle as much of the mango habanero sauce over the shrimp as you'd like, then finish with a sprinkle of sea salt. Serve with tostadas or saltine crackers.