Parrot Mango Punch
PREP TIME

COOK TIME

TOTAL TIME

SERVINGS11
Recipe submitted by Billy Green, Wit and Vinegar.
Ingredients
2 oz mango syrup
1.5 oz bourbon
1 oz fresh squeezed lime juice
1 oz cranberry juice cocktail
Very cold sparkling water
Mango syrup
2 ripe red mangos, sliced and fruit scooped from the skin
1 1/2 cups water
3/4 cup white granulated sugar
PREP TIME

COOK TIME

TOTAL TIME

SERVINGS11
Recipe submitted by Billy Green, Wit and Vinegar.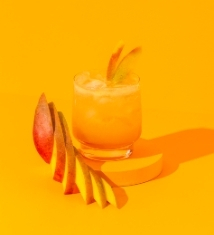 Instructions
Blend the Mango and water together in a blender for 30 seconds or so until smooth.

Add the mixture to a small saucepan and stir in the sugar.

Cook over medium low heat until the syrup starts to simmer. Once it's simmering, cook for 5 minutes on low heat then remove the pan from the heat and let it cool for at least an hour.

After the hour is up, strain the syrup through a fine mesh sieve to catch any pulp and store the syrup in the refrigerator until ready to use.

In a cocktail shaker, add everything except the sparkling water with a handful of ice and shake for 30 seconds to get everything super cold.

Pour over a short glass of ice and top with 1-2 oz of the sparkling water. Garnish with a mango slice and serve.