Lucky Roots Cocktail
PREP TIME

COOK TIME

TOTAL TIME

SERVINGS0
Recipe by Tony Pereyra, Bar & Beverage Solutions, The Spirits in Motion
Ingredients
2 oz Lemongrass Infused Gin, recipe follows
.75 oz jasmine tea
.5 oz honey
1 oz Mango Seed Dill Shrub, recipe follows
.75 oz yuzu
Lemon Ginger Foam, recipe follows
Garnish: lemongrass, fresh dill sprig, micro flowers
For the Lemongrass Infused Gin
1½ cups chopped fresh lemongrass
1 liter NOLET'S Gin or preferred gin
For the Mango Seed Dill Shrub
2 cup fresh mango seeds, with mango flesh still attached to seed
2 cups white cane sugar or preferred sugar
1 cup chopped fresh dill
2 cups white balsamic vinegar, Champagne or rice vinegar will work
For the Lemon-Ginger Foam
2 oz fresh lemon juice
6 oz fresh ginger syrup
4 oz egg white
PREP TIME

COOK TIME

TOTAL TIME

SERVINGS0
Recipe by Tony Pereyra, Bar & Beverage Solutions, The Spirits in Motion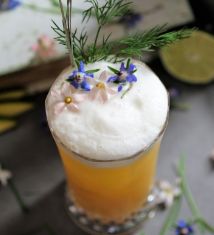 Instructions
In a mixing glass, combine all ingredients (except Lemon-Ginger Foam) with ice and shake well. Strain over fresh ice. Top with Lemon-Ginger Foam and garnish.
For the Lemongrass Infused Gin
Combine lemongrass and gin. Leave in room temperature for about 24 hours. Or sous vide for 1.5 hours and let cool.
For the Mango Seed Dill Shrub
Combine mango seeds, chopped dill and sugar and let sit at room temperature until sugar dissolves and sugar turns into liquid, 24 to 48 hours. Add vinegar and let sit for additional 12 to 24 hours, depending on desired flavor. Taste and strain out all solids.
For the Lemon-Ginger Foam
Combine all ingredients into an ISI Soda/Cream Siphon, and close tight. Charge with ISI n2o Cream Charger and let cool. For a thicker consistency double charge with a second n2o charger. Refrigerate when not in use.