Nashville Hot Chicken Sandwich with a Mango Relish
PREP TIME25 minutes

COOK TIME

TOTAL TIME

SERVINGS4
Nashville Hot Chicken Sandwich with a Mango Relish
Ingredients
4 Chicken Breasts
4 Buns
Vegetable Oil
For the Relish
2 Mangos, diced
2 tbsp Cilantro, chopped
1/3 cup Red Bell Pepper, diced
1/3 cup Red Onion, diced
1 Jalapeno, seeded and diced
1 tbsp Fresh Lime Juice
For the Chicken (Wet Dredge)
3 Eggs
1 1/2 cup Buttermilk
2-3 tbsp Hot Sauce, add more for additional heat
1 tsp Paprika
For the Chicken (Dry Dredge)
2 cup All-Purpose Flour
2 tbsp Cayenne Pepper
2 tbsp Black Pepper, freshly cracked
1 tsp Paprika
Spicy Sauce
2 tsp Garlic Powder
1 tsp Paprika
1 tsp Chili Powder
1 tsp Kosher Salt
1 tsp Black Pepper, freshly cracked
PREP TIME 25 minutes

COOK TIME

TOTAL TIME

SERVINGS4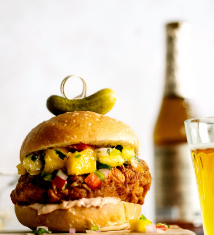 Instructions
To make the mango relish: In a medium size bowl, toss together all ingredients. Set aside to make the chicken.

To make the wet dredge: In a large bowl, whisk together the eggs, buttermilk, hot sauce and kosher salt. Transfer to a shallow dish and set aside.

To make the dry dredge: In a shallow dish whisk together the flour, cayenne pepper, black pepper and paprika; set aside.

To heat the oil: Fill a large pot with at least two inches of oil. Heat oil until a thermometer reads 350 degrees.

To fry the chicken: Pat chicken dry and working with 1 piece at a time, dredge it in the flour mixture, shake off any excess, then dip it in the buttermilk mixture, shaking any excess off and then giving the chicken one final dredge in the flour mixture once more.

Working in two batches, slowly lower two chicken breasts into the oil at a time. Make sure to bring the oil back up to 350F if needed. Fry chicken, as needed to ensure an even golden brown finish, about 6 to 8 minutes. To ensure doneness, make sure to an insert thermometer in the thickest part reads 160F. Transfer chicken to a wire rack and let cool slightly. Portion outa 1/2 cup oil and discard the remaining oil once cooled.

To make the spicy oil sauce: In a large bowl, add the 1/2 cup of portioned out oil and whisk garlic powder, paprika, chili powder, kosher salt and black pepper. Brush fried chicken with spicy oil sauce.

To assemble sandwich: Place bottom bun on a cutting board and spread with mayonnaise. Arrange chicken on top, followed by the mango relish. Place remaining half of bun on the top.