Mango Yule Log Gingerbread Cake
PREP TIME

COOK TIME

TOTAL TIME

SERVINGS0
Mango Yule Log Gingerbread Cake
Ingredients
Gingerbread Cake:
6 Eggs, Whites and Yolks Separated
2 Tsp Ground Ginger
1/2 Tsp Cocoa Powder
1/8 Tsp Ground Nutmeg
2 Tbsp Brown Sugar
1/4 Tsp Cream of Tartar
1/2 Cup All-Purpose Flour
1/2 Tsp Ground Cinnamon
1/4 Tsp Ground Clove
1/4 Cup Molasses
4 Tbsp White Sugar
Powdered Sugar for Garnish
Mango Filling:
8 oz Full-Fat Cream Cheese, Room Temperature
1 Tbsp White Sugar
1/4 Cup Dried Mango
1/4 Tsp Pure Vanilla Extract
4 oz Butter, Room Temperature
1 Cup Fresh Mango Puree
1/2 Tsp Ground Tumeric
PREP TIME

COOK TIME

TOTAL TIME

SERVINGS0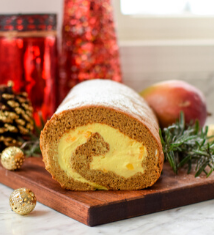 Instructions
For the Gingerbread Cake:
Place egg whites in a bowl and let stand at room temperature for 30 minutes.

Preheat the oven to 350 degrees.

Grease the bottom of a 15x10x1 inch baking pan, then line with parchment paper. Grease the parchment paper and lightly dust with flour.

In a small bowl, whisk together flour, ginger, cinnamon, cocoa powder, clove, and nutmeg. Set aside.

In a large bowl, beat the egg yolks on high-speed with the molasses and brown sugar for approximately 3-minutes. The consistency should appear thick like cake batter when ready.

In another bowl with clean beaters, beat the egg whites and cream of tartar until soft peaks form.

Gradually add in the white sugar, while beating, allowing the sugar to dissolve before adding more.

Continue beating until soft peaks form again.

Fold the egg white mixture into the egg yolk mixture until well combined.

Fold flour and spice mixture into the egg mixture and fold until well combined.

Transfer the batter to the prepared baking sheet, spreading evenly.

Bake 10-12 minutes, or until center springs back when lightly touched.

Lie a tea towel on a flat surface and generously dust with powdered sugar.

Carefully invert the cake onto the tea towel and peel away the parchment paper. Discard the paper.

Roll the towel and the cake up together, starting with the short side, to form a 'roll' (like a Jelly Roll). Place on a wire rack and allow to cool completely in a refrigerator for at least 4 hours, ideally overnight if possible.
For the Mango Filling:
In a large bowl, with a mixer on medium-high, cream together the cream cheese, butter, and sugar.

When the 'grit' from the sugar is gone, add the mango puree, dried mango, turmeric, and vanilla until well incorporated.
To Assemble the Yule Log:
On a flat surface, unroll the gingerbread cake and towel so the cake lies flat on the towel.

Evenly spread the mango filling across the cake, leaving 1/2 inch space from all edges.

Roll the cake back up again, without the towel, and ensure the seam side down.

Garnish with additional powdered sugar and slice into 1" pieces just before serving.