Mango Turkey Sliders
PREP TIME30 minutes

COOK TIME15 minutes

TOTAL TIME

SERVINGS10
Nutritional analysis per serving: Calories 278; Protein 17 g; Carbohydrates 34 g; Fat 9 g; 14% Calories from Fat; Cholesterol 50 mg; Sodium 325 mg; Potassium 407 mg; Fiber 4 g
Ingredients
2 mangos (about 2 pounds), peeled and pitted
1 tbsp olive oil
1½ pounds 95% lean ground turkey
1/2 cup panko breadcrumbs
2 green onions, white and light green parts chopped
2 cloves garlic, minced
2 tsp chopped fresh thyme
1 tsp Dijon mustard
salt and pepper
10 whole-wheat burger "slider" buns
1/2 red onion, thinly sliced
1/2 head butter lettuce, washed and torn into large pieces
PREP TIME 30 minutes

COOK TIME15 minutes

TOTAL TIME

SERVINGS10
Nutritional analysis per serving: Calories 278; Protein 17 g; Carbohydrates 34 g; Fat 9 g; 14% Calories from Fat; Cholesterol 50 mg; Sodium 325 mg; Potassium 407 mg; Fiber 4 g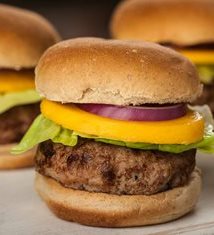 Instructions
Dice 1 mango. 

In a blender or food processor, puree it with olive oil until smooth. 

In a large bowl, combine pureed mango, ground turkey, breadcrumbs, green onions, garlic, thyme, and mustard. 

Season with salt and pepper.

Preheat outdoor grill or indoor grill pan over medium-high heat. 

Clean and oil grill grates. 

Form turkey mix into 10 small patties. 

Cook until internal temperature reaches 160 degrees, about 15 minutes total, flipping halfway through cooking. 

Remove from grill and place on clean platter, tent with foil and set aside. 

Peel remaining mango with vegetable peeler. 

Cut a small section off the bottom of the remaining mango so it sits on cutting board.

Slice mango from the cheek in, creating small disks. 

Place turkey burgers on whole-wheat buns and top with sliced mango, red onion and butter lettuce.