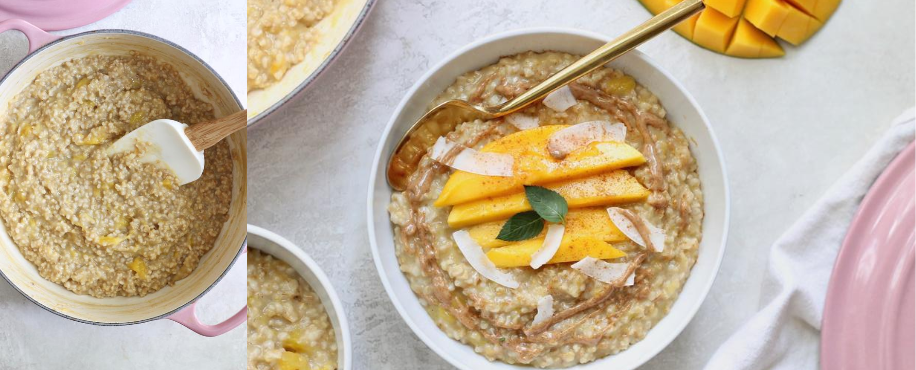 INGREDIENTS
1 cup steel cut oats
4 cups water (can sub as much non-dairy milk as desired)
1 ripe mango, diced
1 tbsp coconut oil or butter
1/2 tsp fine sea salt
1/4 tsp cardamom (optional)
2 tbsp coconut sugar
1 tsp vanilla extract
Additional fresh mango and almond butter, for serving
Place oats, water, mango, coconut oil, salt, and cardamom (if desired) in a pot. Stir to combine and bring to a boil.
Reduce heat to the lowest setting and simmer for about 22 minutes, stirring well every 5 minutes. The oatmeal is done when it still looks somewhat soupy as it will continue to thicken as it cools.
Remove from heat and stir in coconut sugar (add more to taste if desired) and vanilla extract. Portion into bowls and top with fresh mango plus a drizzle of almond butter.
NOTES
To store: Store leftovers in an air-tight container for up to 5 days.
To freeze: Portion into individual containers and freeze for up to 3 months.
Recipe submitted by Alexis Joesph, Hummusapien