Mango Salsa
PREP TIME

COOK TIME

TOTAL TIME

SERVINGS0
Ingredients
1 can (15 oz) black beans
1/2 can (15 oz) sweet corn
2 fresh mangos, diced
1 cup white onion, diced
1-2 handfuls of cherry tomatoes (sliced)
2 limes
Cilantro, to taste
Himalayan salt (optional)
PREP TIME

COOK TIME

TOTAL TIME

SERVINGS0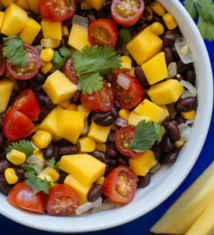 Instructions
Slice mangos, onions and cherry tomatoes

Add diced fruit and veggies to a bowl along with black beans and corn.

Mix all ingredients.

Squeeze lime juice over mixture.

Season to taste with salt

Sprinkle cilantro on top.

Transfer the salsa to the fridge to rest until chilled.

Serve on top of meat or enjoy as a side dish.