Mango Salsa Verde Soup
PREP TIME

COOK TIME

TOTAL TIME

SERVINGS0
Recipe submitted by Jennifer Sattley, Carlsbad Cravings
Ingredients
Soup
1 tbsp olive oil
1 large chicken breast (1 pound) cut through the equator to create 2 thin fillets
6 cups low sodium chicken broth
3/4 cup uncooked wild rice blend
1 15 oz can black beans rinsed and drained
1 15 oz can fire roasted tomatoes with juices
1 red bell pepper chopped
1 zucchini sliced and quartered
Mango Verde Sauce
1 13.5 oz can coconut milk (lite is fine)
1 cup mild salsa verde
1 cup roughly chopped mango (1 large mango)
2 tbsp lime juice
1 tbsp brown sugar
1 tbsp cornstarch
1 tbsp chicken bouillon
1 tsp EACH ground cumin, chili powder
1/2 tsp smoked paprika
¼-½ tsp chipotle chili powder
Garnish
chopped mangos a MUST!
cilantro
lime juice
PREP TIME

COOK TIME

TOTAL TIME

SERVINGS0
Recipe submitted by Jennifer Sattley, Carlsbad Cravings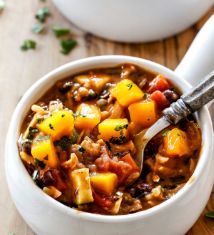 Instructions
Heat 1 tablespoon oil in a large Dutch oven/soup pot over medium-high heat. Add chicken and lightly sear on both sides, approximately 2 minutes, but don't cook through.

Add chicken broth and wild rice to chicken and bring to boil then reduce heat and simmer on medium low, stirring occasionally for 15-20 minutes or until chicken is tender enough to shred. Remove chicken and let rest until cool enough to shred.

Meanwhile, add all of the Coconut Mango Verde Sauce to a blender and blend until smooth.

After you remove chicken, add black beans, diced tomatoes and Coconut Mango Verde Sauce to pot with rice (don't add chicken back yet). Bring to a boil then reduce to a simmer for 20-30 minutes or until rice is tender. Stir often, especially towards the end so the rice doesn't stick to the bottom and burn. *Note: Rice cooking time varies so I suggest checking the rice occasionally until done.

Once rice is tender, add shredded chicken back to pot along with zucchini and bell peppers. Simmer for 2 minutes.

Taste and add additional brown sugar for sweeter, hot sauce for spicier or lime for tangier. Garnish with plenty of mangos and optional cilantro.