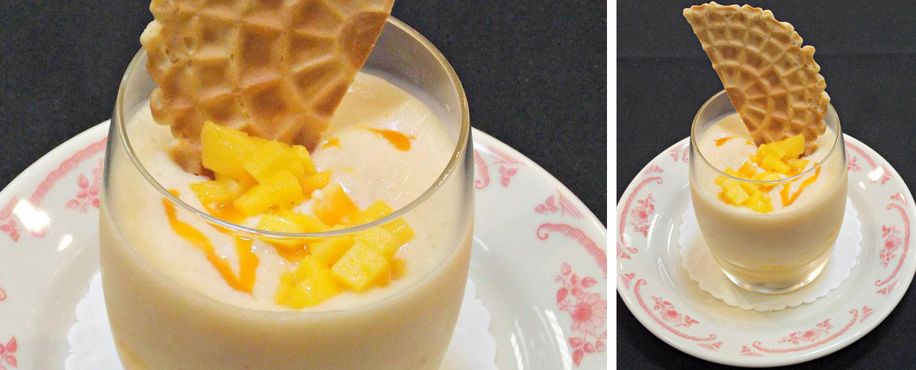 INGREDIENTS
Pudding
2-1/2 tablespoons butter
1 cinnamon stick
3 tablespoons sugar, divided
1 ripe mango, peeled, seeded and diced
1 teaspoon coconut oil
1 cup jasmine rice
1 cup whole milk
1-1/2 cups evaporated milk
2 cups water
Zest of 1 lime
Small pinch fresh microplane'd nutmeg
2 cups fresh mango puree, poured into squirt bottle
1/2 cup fresh mango, fine chop
Mango Pizzelles
6 eggs
1 cup sugar
3/4 cup vegetable oil
3-1/4 cups all-purpose flour
1 tablespoon baking powder
3 tablespoons anise seeds
1 tablespoon anise oil
1/4 cup fresh mango puree
To make pudding:
Heat a medium-sized pot over medium heat. Melt the butter. Add the cinnamon stick and 1 tablespoon sugar, and stir to dissolve. Add the diced mango, and sauté until the mango caramelizes slightly. Remove the mango mixture, leaving the cinnamon stick in the pan, and set the mango aside in a bowl.

In the same pan drizzle in coconut oil. Add the jasmine rice, and stir to coat the grains in the oil and slightly toast. Pour in whole milk, evaporated milk, water, lime zest, and remaining 2 tablespoon sugar, and stir to combine. Simmer mixture for 20 minutes. Once the pudding is cooked, season it with nutmeg, stir and remove heat. Stir in cooked mango mixture.

To assemble: Squirt about 1 teaspoon mango puree into the bottoms and sides of 20 small glasses. Top with pudding, and garnish with the reserved fine chopped fresh mango mixture and drizzle with another teaspoon mango puree. Can assembled, refrigerated and tightly covered, up to 24 hours before serving.


At service:
Garnish with Mango Pizzelles right before serving.


To make batter:
In a large bowl, combine the eggs, sugar and oil and mix until well combined. Add the flour, baking powder, anise seeds and anise oil. Mix well to form a homogenous batter. Set aside at room temperature for 30 minutes.

To make pizzelle: Heat pizzelle iron until very hot. Pour 2 tablespoons batter onto the iron, close, and return to the heat. Cook until golden brown, about 2 minutes. Place on a rack to cool. Repeat until all the batter is used. Carefully cut in quarters to serve as garnish. Can be made 24 hours before serving.

Source: Chef Dave Woolley, CD Culinary Approach<