Mango Brownies
PREP TIME15 minutes

COOK TIME40 minutes

TOTAL TIME

SERVINGS16
Source: Chef Allen Susser
Ingredients
2 ounces unsweetened chocolate
1/2 cup whole wheat flour
1/2 tsp cinnamon
1/2 cup olive oil
1/2 tsp salt
1/2 tsp vanilla extract
1/4 tsp almond extract
1 cup light brown sugar
2 large eggs
1 cup walnuts
1 ripe mangos, peeled, pitted and diced, divided
PREP TIME 15 minutes

COOK TIME40 minutes

TOTAL TIME

SERVINGS16
Source: Chef Allen Susser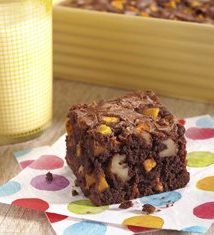 Instructions
Over a double boiler, melt the chocolate then set aside to cool.

Sift the flour, cinnamon and salt together, set aside.

Using a whisk, mix the olive oil, vanilla and almond extracts. Add in the sugar to the oil mixture, and then the eggs one at a time. Stir in the cooled chocolate. Using a spatula, fold in the flour mixture until just incorporated. Stir in walnuts and half of mangos.

Preheat the oven to 350 degrees. Using a non stick prepared baking spray with flour, spray an 8" x 8" pan. Pour batter into the prepared pan. If needed, spread using a spatula to make an even layer. Sprinkle remaining mango evenly over top of batter.

Bake for 40 minutes until a toothpick inserted into the center comes out clean. Remove from oven and let cool completely before cutting into 16 pieces.