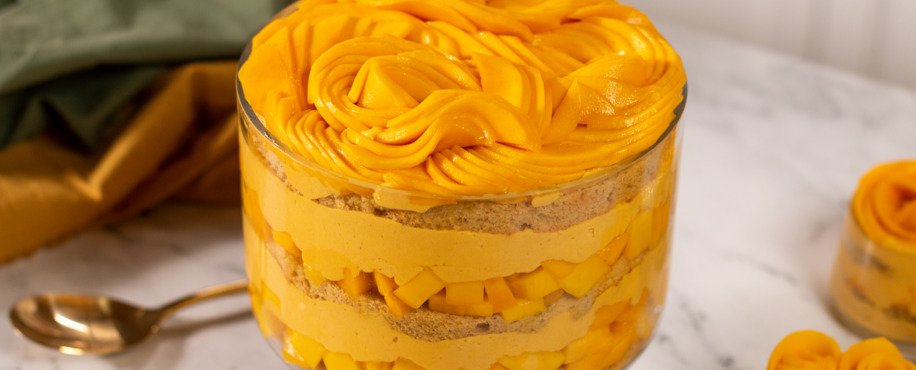 Ingredients
Mango chiffon
1½

cups

Cake Flour

1/2

cup

Granulated sugar #1

1½

tbsp

Baking powder

1/2

tsp

Sea salt

3/4

cup

Vegetable oil

6

each

Egg yolks

1/3

cup

Mango puree

1/2

tsp

Vanilla extract

6

each

Egg whites, room temperature

1/2

tsp

Cream of tartar

1/2

cup

Granulated sugar #2
Mango Mousse
2

cups

Fresh Mango Puree

1

each

Fresh lime juice

5

each

Silver Gelatin sheeted, bloomed in ice water

1/2

cup

Granulated sugar

2

each

Fresh egg whites

2

cups

Heavy cream
Lime syrup
1/2

cup

Granulated sugar

½

cup

Water

1

each

Lime, zest and juice
Instructions
Mango Chiffon
In a large bowl, sift together flour, sugar #1, baking powder, and salt.

In another bowl, combine vegetable oil, egg yolks, water, and vanilla. Whisk into the dry ingredients. Whisk to combine.

In an electric mixer with the whisk attachment, or with a hand mixer, beat the egg whites with the cream of tartar.

Add the sugar slowly to make a meringue.

Beat whites until medium peak, and fold into the above mixture into three additions.

Pour batter into a 3 inch tall 8" parchment lined cake pan.

Bake in a preheated 305-degree Fahrenheit oven.

Bake for 30-40 minutes or until done.

Check when a toothpick inserted in the center comes out clean.

Allow to cool to room temperature.
Mango Mousse
In a saucepan on medium heat, bring mango puree and lime juice to a full boil while stirring.

Allow to simmer for 2-3 minutes.

Add bloomed gelatin, stir to melt and combine.

In the meantime, make a Swiss meringue with the sugar and egg whites.

Make sure your whites are room temperature.

Place a heat safe bowl over simmering water, combine sugar and egg whites.

Constantly whisk the mixture until the grains of sugar are dissolved.

Switch mixture to a mixer with the whisk attachment.

Whisk until a medium peak is formed.

In another bowl, whip cream to soft peak.

Fold mango mix into meringue.

Then fold in cold cream last.

Allow the mousse to sit in the refrigerator 4-6 hours or overnight.
Lime Syrup
In a small pot, bring sugar and water to boil.

Allow to cool to room temperature prior to assembling trifle.
Assembling
To assemble trifle, cut chiffon into 3 even layers.

Remove any brown crumbs along the sides and top and bottom of the cake.

Start building by placing a little mousse on your trifle dish.

Top with a layer of cake.

Placed sliced fresh mangos on top of the cake.

Top with about 1/3 of the mousse mixture.

Top with another layer of chiffon.

Soak with more lime syrup.

Place another 1/3 layer of mousse.

Top with the final layer of cake.

Soak with more lime syrup.

Then top with more mousse.

Arrange to cut fresh mango on top to garnish cake.

Allow to fully chill before serving.

*To shorten prep time, rather than making the chiffon cake, you may substitute your favorite pre-made vanilla cake or pound cake.
Recipe Notes
Recipe courtesy of Chef Sally Camacho, Sally CM, LLC