Mango, Pineapple and Chile Manzano Pico de Gallo and Jícama Chips
PREP TIME

COOK TIME

TOTAL TIME

SERVINGS10
Recipes Developed by Jorge Fitz and Beto Estua, Casa Jacaranda, Mexico City
Mango, Pineapple and Chile Manzano Pico de Gallo and Jícama Chips
Ingredients
1 each Medium White Onion, thin sliced
1/2 cup Pineapple, cubed
2 each Medium-sized Ripe Manzano Chilies, thin sliced 
3/4 cup Lime Juice
6 Berries - allspice
1/2 tsp Sea Salt
2 each Mangos, sliced in cubes
1-2 Medium Jícamas, peel and slice thin
PREP TIME

COOK TIME

TOTAL TIME

SERVINGS10
Recipes Developed by Jorge Fitz and Beto Estua, Casa Jacaranda, Mexico City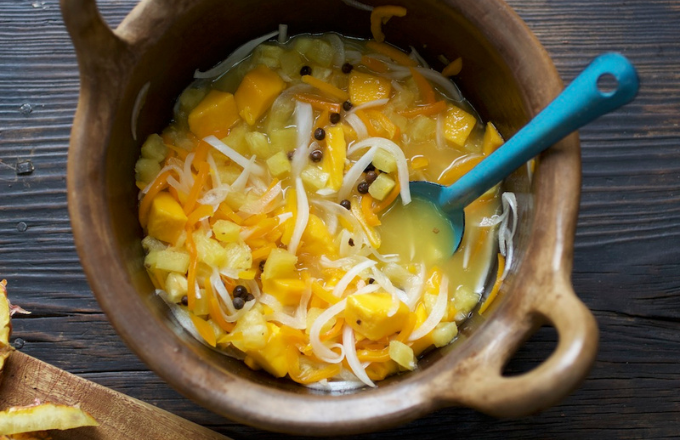 Instructions
Mango, Pineapple and Chile Manzano Pico de Gallo
Incorporate the chile, onion, pineapple and lime juice in a medium-sized bowl. Crush half of the allspice berries with the blade of your knife. Add the allspice to the bowl. Add salt to taste and set aside

Add the sliced mango and incorporate all the ingredients prior to serving.
Jícama chips
Wash the jícama thoroughly using a vegetable brush, pat dry. Remove the peel and slice thinly using a mandolin. 

Submerge in a container of water with lime juice. Cover and refrigerate until ready to serve. When it's time to serve, drain well.