Frozen Yogurt-Dipped Mango Pops
PREP TIME15 minutes

COOK TIME

TOTAL TIME

SERVINGS12
Frozen Yogurt-Dipped Mango Pops
Ingredients
2 Large Ripe Mangos
1 Cup Nonfat Plain Greek Yogurt
2 Tbsp Honey
Toppings:
Mini Chocolate Chips
Salted Cashews
Sprinkles
Toasted Coconut
Special Equipment:
12 Lollipop Sticks and Wax Paper
PREP TIME 15 minutes

COOK TIME

TOTAL TIME

SERVINGS12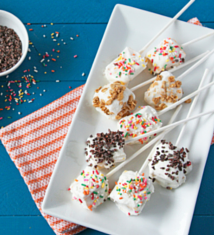 Instructions
With a sharp knife, slice off the sides of the mango, avoiding the large seed in the middle.

Cut parallel slices into the mango halves to dice, being careful not to cut through the skin.

Scoop the mango cubes out of the mango skin using a spoon and skewer each mango cube onto a lollipop stick.

In a bowl, stir to combine the yogurt and honey.

Dip each mango into the yogurt until coated.

You may need to use a spoon to help spoon yogurt onto the mango cubes evenly.

Sprinkle desired toppings onto each mango cube and place mango cubes on a baking sheet lined with wax paper.

Place in the freezer until mangos are slightly frozen and yogurt has set, 1 to 2 hours. 

Serve.